Fashion, INK.
Ever get that spontaneous all-encompassing urge to get permanent dye injected into your skin? If your answer's no, here are some trendy tat alternatives that won't leave you with a crippling sense of regret. They started trending after the Chanel Runway last year- temporary haute couture tattoos slunk down the runways around the pale, willowy wrists and ankles of the fashion industry's elite and the trend has yet to fizzle out. Since their debut, multiple ateliers have joined the ranks, selling tattoo lines ranging from $16 to $120 bucks per booklet. Here's the skinny on fashion's lux skin ink:
Chanel: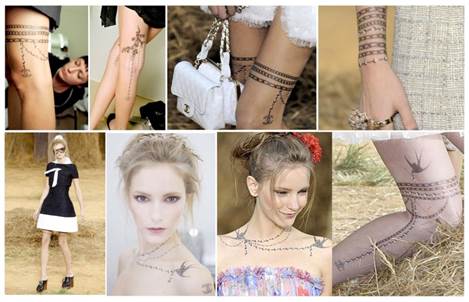 Image source Luuux.com
Originally hand-drawn by Peter Philips, Global Creative Director of Chanel Makeup, Chanel's tattoos channel an oriental vibe with a hint of classic sophistication – strings of pearls, cherry blossoms, and delicate chains carried by birds that can be slapped on in a variety of designs.
Dior:
Leave it to Dior to create tattoos that look exactly like jewelry trying to look like tattoos. The Dior Grand Bal Golden Tattoos designed by jewelry designer Camille Miceli are made of 24 karat gold leaf and cost about as much as the 3D versions. When it comes to sexy paste on skin art, I'll take gold leaf on my limbs over ladypart sequins any day of the week.
House of Dereon: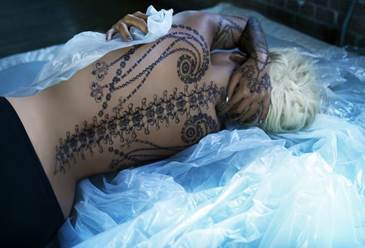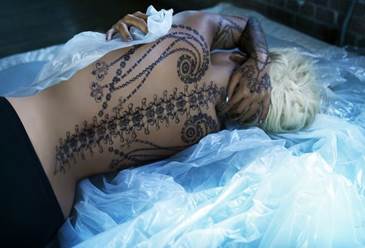 Image source blog.tattoosales.com
Beyonce took temp tats in a whole new direction with her futuristic pin-up biker chic line of temporary tattoos designed by…wait for it…her mom. Way to go Tina Knowles, who knew you had such a sassy side?
Hipster Tats: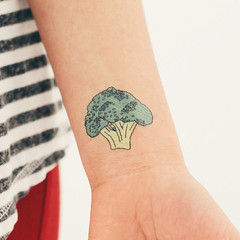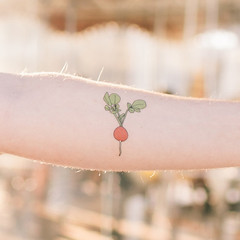 Image source Tattly
Last but not least, if you don't buy into the fashion industry's Cracker Jack box tattoo shtick, go the hipster route with these temporary vegetable tattoos, because, in case you haven't heard, veggies are so hot right now.
Posted by Jenna