Feline Like Coffee?
Image source CoolforCatsUK.com
If you live in Boston, love cats and are willing to forgo some basic hygiene at your local coffee shop, then you're in luck! Miaou Boston, America's first cat café, may soon become a reality. A local entrepreneur recently announced her intentions to open a cat café in Boston by the end of 2013. Already a reality in Tokyo, Bangkok, Taiwan, Seoul, Vienna and Paris, with one in the works for London, cat cafés allow patrons to enjoy their coffee & snacks amidst the cozy company of furry felines.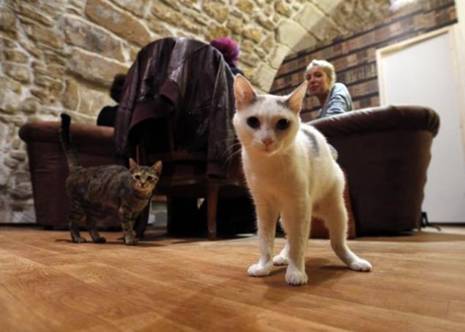 Image source NYDN
Against all my better instincts concerning health codes, I would totally become a frequent patron of Miaou Boston. The convenient comfort of a whiskered friend at my neighborhood coffee shop (aside from that bearded hipster who's always lurking about) would most definitely perk up my day more than any cup of Joe.
Let's just see if this kooky concept can get past Boston's Board of Health. Sights of cats in the kitchen (like this) certainly won't help, unless of course you're living in a Disney cartoon.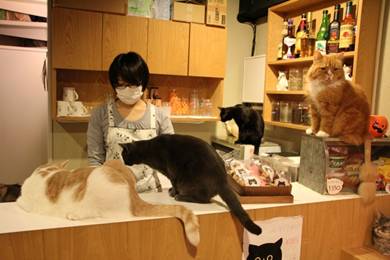 Image source CherryStreetCats.blogspot.com
Posted by Michelle