Fifty Shades of …. Guilty.
Image source LA Times
I still remember awkwardly walking into the bookstore two summers ago, trying to discreetly find that erotic novel that was all the rage and that everyone was reading. The store employee asked if I needed help finding anything. While avoiding eye contact, I murmured "ummm….I think it's called Fifty Shades of something?" In my defense, I was only 18 at the time (and definitely still in my awkward stage).
The following couple of weeks, I couldn't put Fifty Shades of Grey down. It became my new guilty pleasure. I was completely captivated by Anastasia Steele and Christian Grey's relationship. I even went so far as to read the book while I was babysitting poolside and had to hide the title in my lap anytime parents and their children walked by. Worst babysitter of 2011.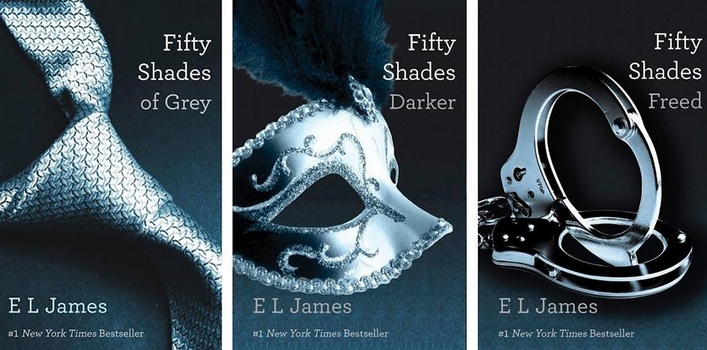 Image source Facebook
Fifty Shades of Grey was clearly a wildly popular phenomenon – enough to be adapted into a movie, which will be released next August. Since the trilogy and the movie clearly aren't enough, author E.L. James has decided to release a wine collection to add to the Fifty Shades of Grey franchise.
The two bottles of wine, "White Silk" and "Red Satin" will be sold in stores nationally starting this month. The tagline for this new wine collection: "You are mine."
I definitely cannot argue the sentiment—I'll probably be the first to get my hands on the Ultimate Fifty Shades of Grey Wine Gift Set. Needless to say, I'll be entering the liquor store (with my new 21+ ID) with the same uneasy and shameful look on my face as I did two years ago in the bookstore. I just can't resist buying these wines – I need the bottles as souvenirs. Fingers crossed that the wine is actually horrible, because I really can't add another guilty pleasure to my list.
Posted by Allie