File This Under: Very Bad Idea
Image Source: Cleveland.com
Unless you've been living under a rock, you've probably noticed Calvin Klein has been everywhere lately promoting their underwear line. You've got Kendall and Kylie Jenner posting Instagrams in #MyCalvins, J. Biebs talking about his endless supply of Calvin's on The Ellen Show, and outdoor ads everywhere you turn in NYC.
Seems like all is well and good in the '90s underwear world, with CK once again relevant and trendy. That is, until you publish a new advertisement featuring an upskirt photo…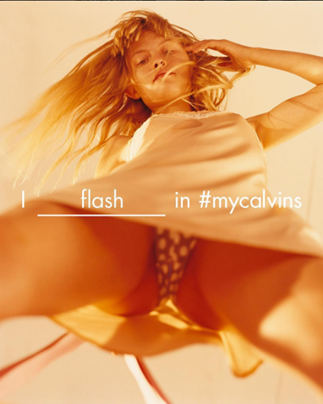 Image Source: Buzzfeed
As any sane individual would suspect, people are pretty pissed. Apparently this isn't even Calvin Klein's first "upskirt-style ad," yet back when the first one ran in 1995 it's unlikely that the term "upskirting" was even a thing. While in no way does that make it better, Calvin probably should have given a little thought to the issues that current day women actually have to deal with before going forward with this one. Don't think you need to be a "father of two girls" to get that this just ain't right.
Posted by Tracy