Finally, Chips for Females! 
Image source: Twitter
Indra Nooyi: The Chairwoman and Chief Executive Officer of PepsiCo, recently discussed the possibility of Doritos creating a female version of their well-known chips. She explained on a Freakonomics podcast that these feminine chips would have less flavor dust, a smaller crunch, and would be in a 'purse friendly' bag. As you can imagine, twitter went crazy.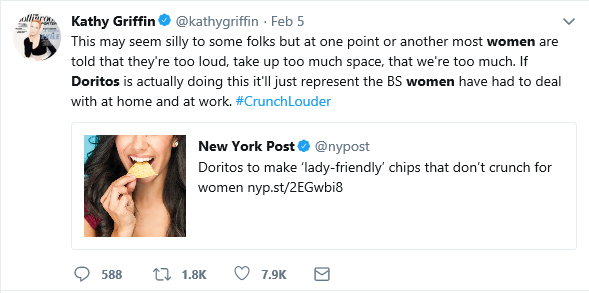 Image source: Twitter
I don't know about you, but I don't think we need to categorize our food by gender. First, sure, the flavor dust is a little annoying, but don't most people of any gender have the guilty pleasure of licking their fingers afterwards? Second, I don't think I have ever eaten a chip in my life and said to myself, "Wow, I wish this crunch was just a little bit quieter." And third, I don't carry a purse. Can you keep a secret? Not all women do.  Although if I did, I'm sure I wouldn't have a petite bag of bland/soft Doritos in it…
Maybe there is a percentage of women out there who would find these chips perfect for them, and that's okay! But, products and concepts like these greatly contribute to a much larger problem, as the world has recently started to finally acknowledge.
Shame on you Doritos… you used to be a fan favorite.
Posted by Lexie Bowman