What the F#$K Do You Do With A Pet Alpaca [or Llama]?
Image Source Instagram
Recently a 14 year old boy in Australia named Matt received quite a bit of attention for his interesting selection of a pet companion. When Matt asked his parents for a dog, they said no.  Surprisingly, they seemed to have no qualms with an alpaca.  Meet Chewy, a pet that begs many questions!
Somewhat randomly, I can relate to the barrage of questions Matt is surely dealing with on a daily basis since I grew up with two llamas and they're basically the same thing. So to take some of the pressure off of Matt's plate, I'm here to answer the most common questions I received about our pet llamas.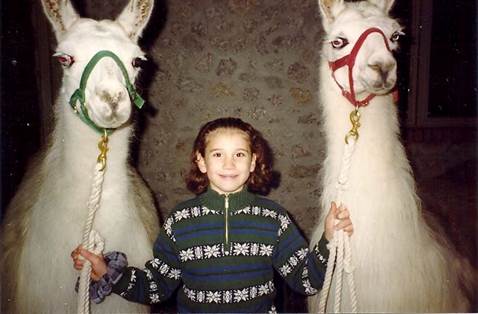 What are llamas/alpacas?
They're considered a pack animals and are in the same family as the camel.
Where do they come from?
They're indigenous to the Andes mountains in Peru.
Can you ride them?
They're typically only meant to carry things up to 50lbs, so unless you're a toddler or have been really good about your diet then no.
What do you do with them?
It all depends! As I mentioned they're pack animals so people sometimes use them to carry things while hiking in the Andes Mountains or even the Adirondacks in NY. You can also sheer and sell their wool which will be turned into amazing [yet insanely overpriced] sweaters or blankets sold at places like Anthropologie. Or, like our family, you can just have them chill in your back yard.
Do they spit at you?
Only if you really piss them off.
Did you ever name yours Tina?
No. And they also don't eat ham.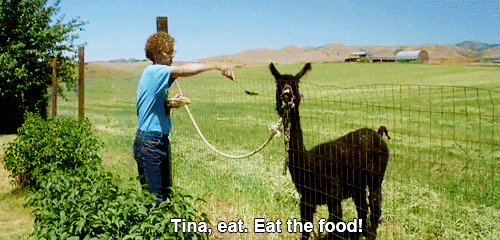 Image Source Giphy
So what lesson can we learn here? Easy. Alpacas/Llamas = better than dogs. Except when that dog is named Lulu and owned by my boss. Hey, I'm no idiot! Matt's parents, well, judgment is still out on that one….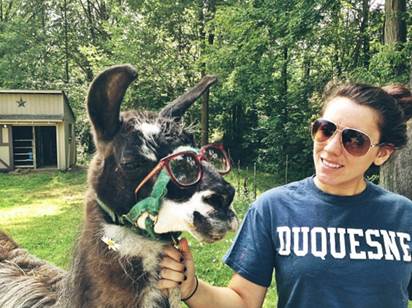 Posted by Katharine