Follicles For All
Image Source: FierisFollicles.com
Looking for a creative birthday present for the person who has everything? Something to send to your mother on Mother's Day? Even a small gift for the love of your life next Valentine's Day? Well – look no further! Why name a star after someone when you can name one of Guy Fieri's famed follicles?
Yes – you heard me right. It's the perfect gift – no matter the occasion. Naming a hair follicle after someone isn't too expensive, so it shows you care without breaking the bank. A standard hair – located on either his head or goatee – will run you $10, while a "Constellation" of hairs, or as they call it, the "Rolls Royce of the hair registration world" rings in at a mere $20.
The recipient will even receive an official customer certificate issued by the Fieri's Follicle Federation: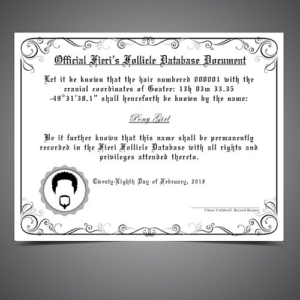 Image Source: FierisFollicles.com
While the site makes it very clear they are not AT ALL affiliated with Guy Fieri, and in truth, they won't legally be able to officially assign a hair on his head, it doesn't make for a pretty great gag gift. Plus, the organization does donate a portion of the proceeds to Guy's charity, Cooking with Kids.
For more info, and to actually name a hair, check out FierisFollicles.com.
Posted by Kat