Food Trends – And Anti-Trends – for 2013
On January 1, you can always count on a few things: a killer hangover, good-natured but impossible declarations of healthy living, and a slew of food and cocktail trend predictions for the upcoming year.
Some of the 2013 predictions I've read recently have my full support  – "salumi 2.0" and "artisanal soft-serve" as pegged by Julia Moskin, for example. Being a hopeless baked-goods addict, I'm also a huge fan of Bon Appetit's prediction that the next hottest course will be bread-focused.
However, there are a few additional things I'd like to see happen in the food scene this year as well:
The end of gluttonous portions. I don't care if you haven't eaten in a week – no one needs an entrée presented on a serving platter. The last time I was forced to eat at one of the greatest offenders of this tragic trend, The Cheesecake Factory, a little part of my soul died when I realized that salad dressing was served individually in full-sized gravy boats.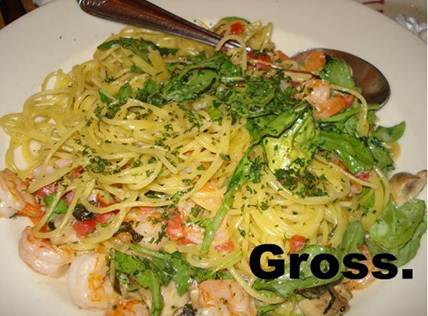 Image source RayaPickett.com (comment added by editor)
Along the same lines, I'd love the "food combinations guaranteed to give you a heart attack" trend to end as well. I'm not saying we all need to eat raw vegetables all the time – I'm a big fan of eating bone marrow smeared on crostinis and don't have a problem enjoying something made with full-fat butter or heavy cream – just do it thoughtfully and in small quantities. Two fried pieces of chicken encasing bacon, cheese and mayonnaise, or burgers dipped in batter and deep fried and then topped with a stack of onion rings are just horrifying and unnecessary.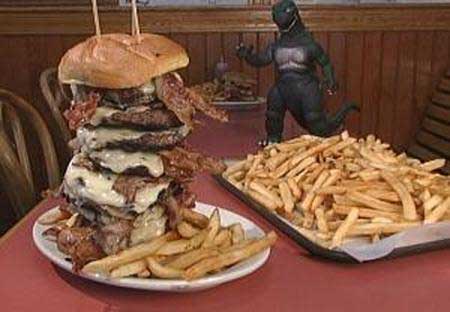 Image source Choosy-Beggars.com
Food is a necessity that not all people in the world receive on a regular basis, let alone have the opportunity to enjoy in an inventive or celebratory way. So in 2013, whatever you eat, let's resolve to enjoy our food thoughtfully – celebrating time-honored recipes, the craft and dedication taken to create the ingredients, inventive new flavors, and the group of people that gather as you eat it.
Posted by Emily