From a Harmless Butterfly to a Stinging Bee
Image source Onward State
It seems that we can't go a single day in Boston without reading about an assault, attempted kidnapping or worse. Most of the victims are female and are walking alone at night. It's an ugly truth but sometimes I have to walk home alone from the T in the dark—it's inevitable.
I'm that type of person that thinks "oh that would never happen to me," but realistically, I'd be a perfect target for an attacker—as scary as that is to admit. I'm probably the least intimidating looking person with a smile on my face and my bows in my hair. So I decided it was time to better prepare myself for the dangers of living in a city and signed up for a self-defense class. I was a little nervous going into it because I haven't been to the gym since the Second World War and had no idea what I was getting myself into. Turns out, I LOVED it!
First thing I learned was AIR—awareness, intuition and response. Always be aware of your surroundings. Seems simple enough but how many girls do you see walking down the street with their headphones in, playing on their phone? Nobody looks up at each other anymore, afraid of sending the wrong message—but you've got to pay attention, how else are you going to be able to spot danger before it happens? Second thing we learned was about intuition—you have to trust your gut. We're programed to have that fight or flight response—use it. If something doesn't seem right, it probably isn't. And then, of course—response! Either run the heck up out of there or fight back. NEVER EVER "go to a second place" meaning, don't get into a car/house/building/etc. with a person.
We learned some fighting maneuvers (kicks, jabs, hooks…) but what I found most valuable was how to get out of a hold. They taught us how to break free if somebody grabs you from behind, by the neck, shoulders, etc. They then had one of the instructors dress up in a big padded suit and let us practice our newly learned techniques.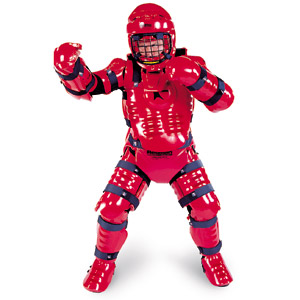 Image source Back to Basic Self Defense
He totally looked like Iron Man. I was terrified to fight him, one because I LOVE Tony Stark and would feel awful hitting him and two because IRON MAN was about to attack me. The instructor was SO nice though, I really did feel awful kicking him in the nuts (even though he's got enough padding on that it doesn't hurt) but after some warming up and a bit of heckling, I got really into it.
I surprised myself (as well as everybody else) when they had me practice fighting him off for 30 seconds. Apparently, ya girl's got a right hook "like she grew up in Dorchestah!" I hit him so hard in the head he hollered because felt it through his pads. I immediately stopped, horrified, and apologized, which gave him the perfect opportunity to attack me again…darn it! The battle finally ended when I threw him into the wall. I guess growing up with an older brother taught me a thing or two about being a scrappy fighter. Thanks, Ian for turning me into the Southern/girl version of Brad Marchand.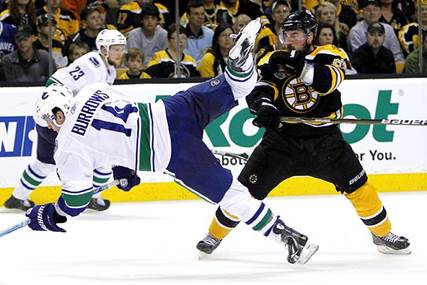 Image source ESPN
As I'm sure you can tell, I enjoyed the class very much and would highly recommend that all ladies take it at least once. It was a valuable and fun experience that really made me feel better prepared if god forbid, something happened. The class is FREE and offered at Regan's Motivated Fitness in Southie every Wednesday at 7:30. If you're interested and need a buddy to go with, don't hesitate to give me a call!
Posted by Quinn