From Catwalk to…Coffee?
Two of my favorite things have come together: coffee and clothes. Yes, I know this is not breaking news. We have seen coffee chains and cafés in retail stores before-Target and Nordstrom just to name a couple. However, this is different. This is designer clothing. This isdesigner coffee. You read that correctly, designer coffee. So, who is behind this endeavor? None other than Ralph Lauren.
Clearly having massively successful lines in clothing, fragrance, and home furnishings as well as two restaurant locations was not enough for the savvy business mogul. The amazingly talented designer (one of my personal favorites) is putting his enthusiasm for coffee towards a new business venture, Ralph's Coffee. Lauren, being a coffee enthusiast, explained that this idea came from many fond memories of sitting around drinking coffee with loved ones. He wanted to create a space that enabled people to take time out of their busy lives and just relax. The first Ralph's Coffee opened last month on the second floor of the Polo flagship store on Fifth Avenue in New York.
Don't have time to stop by the store to cure your coffee craving? Not a problem. Ralph's Coffee is providing busy, caffeine-deprived (or addicted, no one is judging) New Yorkers with that essential coffee fix via a coffee truck that will be patrolling the streets of Manhattan. You can follow @RalphsCoffee on Twitter for updates on the trucks whereabouts.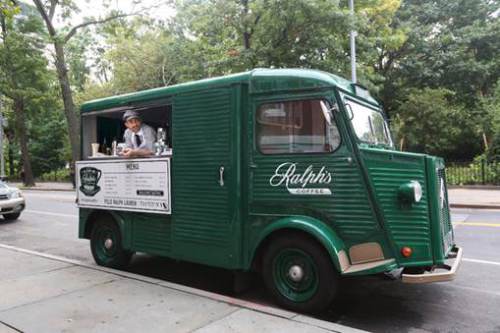 Image source NyTimes.com
While the amazing styles of Ralph Lauren can be a little pricey for us average, every-day folk, the coffee comes at a reasonable price. A drip coffee is priced at $2.50 and an espresso will run you $3.50. Although much less extensive than Lauren's restaurant, the café also offers pastries, sandwiches, and other treats-including brownies that are Lauren's mother-in-law's recipe. Bags of beans, mugs and t-shirts are also for sale.
I don't know about you, but next time I am in New York, I will definitely be trying Ralph's Coffee.
Posted by Courtney K.