From Jamaica to Sochi
Image source CBS Sports
I am a sucker for an underdog story. Always have been, always will be. I was cheering for Rocky as he drank his concoction of raw eggs (I advise against it) and jammed to Bill Conti while he flew all the way to the top. (Side note: that song may or may not be on my gym playlist when I need to have a "Yo Adrian" victory moment.)  I'm the girl that's always betting on the sports team that is sure to be pummeled. Always. I've made my peace with it, sitting quietly and mumbling, "you never know, there's still time. Maybe they'll pull through…" while I'm laughed at by those around me. Call me a softie, but the underdog story is just always the better one.
I guess it makes sense why one of my absolute favorite movies growing up was Cool Runnings. I cannot honestly say how many times I've seen it, but I do know that I can quote every single line with very little prompting. That, my friends, is talent. (And, if you're ever looking for a new life mantra, the movie provides that too). It's got it all: you laugh, you cry and you cheer for the Jamaican Bobsled Team to come out on top. Twenty-one years later (holy crap, 21 years?!) the real-life Jamaican team is at it again, this time trying to make their way to Sochi. Rather than singing on the street for quarters or starting an arm-wrestling booth to raise money the Disney-version way (hey, it could work), the team took to the Internet and started their own crowdfunding campaign.
In pure Disney style, the underdogs have prevailed and the team recently announced that they have raised enough money for their 2014 Olympic trip! Watch out Sochi, the Jamaicans are coming for the gold!
Cool Runnings movie marathon this weekend, anyone? Or, maybe I'll just start prepping for my own Olympic journey by training in the tub: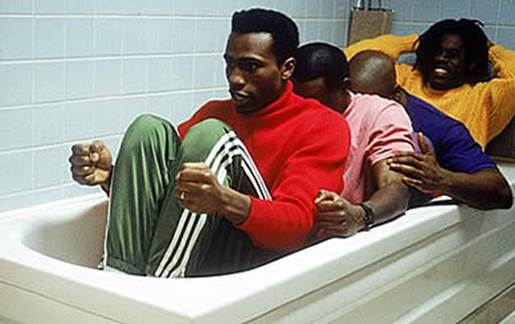 Image source Themoviescene.co.uk
I repeat: it could happen.
Posted by Amy