Getting Your Sh*t Together
About a year after graduating college I can honestly say I have a job I love, I'm financially independent, have great friends and am generally a happy person. That being said I can also tell you right now that if I had a penny for every time I told myself or a friend, for one reason or another, that it was time to get my sh*t together I would never need to work for money again. A phrase that has perforated the world's vernacular so readily and yet has never been defined by the vernacular bible (Urban Dictionary, of course) is a much larger part of my vocabulary than I'm proud to admit.
Everyone that supposedly has their sh*t together…you know that one friend that you love to hate since she's always so put together and has the great job, the great boyfriend, maybe even a 401k already…loves to define it for the rest of us.
And even people that I would never consider having their sh*t together still love to throw the phrase around—think T.I. circa 2004 (pre-weapon charges and jail sentence).
[youtube=http://youtu.be/y6v7687Zkwc]
Or tell us about the 10 tell-tale signs of not having your sh*t together
Or my favorite, 10 reasons why you should get your sh*t together a la Thought Catalog (as if we don't have enough reasons on our own to want to get it together)
Even this girl thinks you should get it together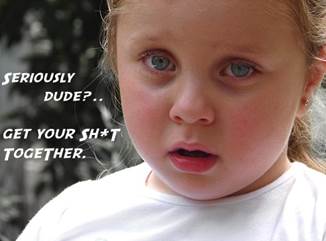 Image source Chicktech.com
With so many different definitions of the phrase it's nearly impossible to know whether or not you 'actually' have your sh*t together. So what's a girl to do?
Like most things in life you have to be happy with what you have, work hard for what you don't have and want and ignore the other sh*t that comes up…like all those people who try to define 'getting your sh*t together' for you.
Posted by Gillian