Girl Crush: Kate Middleton
In light of recent events I decided to write about my girl crush, Kate Middleton. Even before she was engaged to Prince William I have had a mild obsession with her. Like probably every other girl in the world I wish I could be her… And not because she's going to be the Queen of England in a few years and is living the high life, but because there is finally a person in the tabloids that isn't lighting people's driveways on fire, getting DUI's or getting in bar fights.
There have only been a few women in pop culture that I have considered to be my role models: Jackie O, Reese Witherspoon (even with her recent drunken mishap—which was hilarious by the way), Lilly Pulitzer, Lady Diana and now, Kate. The world finally has another legitimate person for people to look up to – here are 10 reasons why I idolize and have a serious girl crush on Kate Middleton:
1. Charity work. Sure she has plenty of time and money to spend on charity work, but she seems to really love it. You can tell she loves kids and wants to help make a difference in their lives and be as hands-on as possible. She does much more than just playing a round of golf and slapping her name on a check like most celebs; she gets out there and visits hospitals and hospices across the world.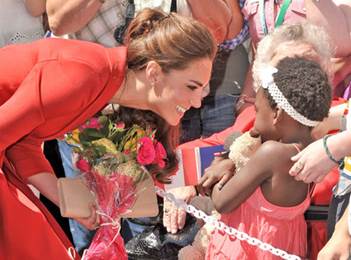 Image source E! Online
2. The girl has access to the royal funds, the world's best personal shoppers and all the major designers yet she still shops for herself at places like Zara and Top Shop…and pays with her own money! That's unheard of. She is repeatedly ranked on everybody's best dressed lists – and for good reason. Kate has impeccable taste in fashion and I would kill to have her wardrobe.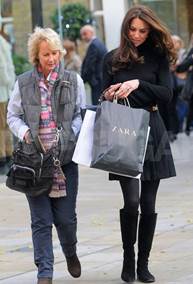 Image source Pop Sugar
Designers are clamoring to work with her and try to send her free clothing, which she refuses to accept. My favorite rumor was that Kim Kardashian got offended that Kate sent back Kim's entire line of clothing. Um, I'm sorry, Kim. Did you expect the future Queen of England to be walking around in a cheetah print romper or leather shorts??
Also, just like us, Kate repeats/recycles outfits. Can you think of any other celebrity that does that?? I can't.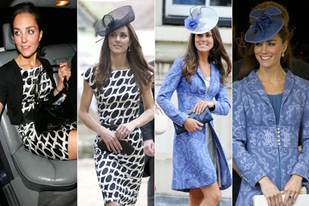 Image source Stylebistro
3. Despite being a commoner and marrying a prince she really doesn't seem like a gold digger. You can tell she really loves William. Look at the difference between them and Princess Diana and Prince Charles – even in their engagement photos you can tell their marriage was just for show.
She knows how important Diana was to William and tries very hard to honor Diana. It's very sweet and telling about how much she loves her husband and values family.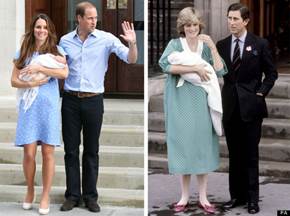 Image source Huffington Post
4. Of course the girl is completely stunning the day after giving birth – blow out and all. When showing the baby for the first time she stepped out in a stomach hugging dress that shocked the world. She was proudly showing her post-baby bump. Say what??
She showed people what real women look like after giving birth, not the two month later, 40lb lighter, photoshopped version on the cover of a magazine. She is down-to-earth and an inspiration to women.
5. She also seems to be bringing in a new era for British tradition. Similar to Princess Diana, she seems to be very hands on, involved and is making waves in the monarchy. After all, when was the last time a future king married a commoner? That new law that states the first born of the family ascends to the throne whether or not it's a boy? That has Kate's name written all over it. I'm excited to see what else she has up her sleeve, I think it'll be great for the monarchy.
6. Even though she seems very reserved at public events, she definitely has an exciting personality and seems like she'd be a lot of fun to hang out with. Remember how much fun she was having cheering at the Olympics? We all heard the stories of her college partying days (remember that fashion show that caught William's eye??), getting caught topless on the beach, and the time when she and William broke up and she hit the club scene. She has the grace and poise of a princess, but the girl can party like Pippa. Kate, next time you have a sitter, give me a call – feel free to bring Harry along too!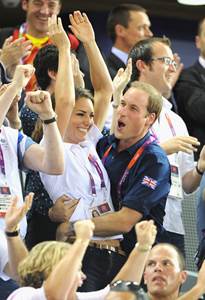 Image source Zimbio
7. She's not a sellout. Kate didn't ditch her family and upgrade for the Windsors. She is still very involved with the Middletons and spends a lot of time with them. Despite the paternal family being royal and everything, it was still her side of the family that visited the baby first. And where do you think baby George spent the first weeks of his life? The Middleton's Buckleberry Manor. She's a family girl. I respect that.
8. In my opinion you can't trust anyone who doesn't love dogs. Kate passes that test with flying colors because she absolutely loves dogs. Her pup, Lupo, has been her best friend and has not left her side for months while William was off in the military. So cute. What a handsome pup!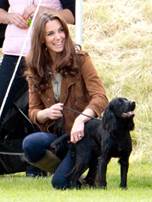 Image source People
9. She's got some sass. For years tabloids have been hounding Middleton. They followed her, harassed her and she always handled it was such grace. They all taunted her and nicknamed her Waity Katie while William took his time proposing. The poor girl, as if waiting around for a proposal isn't agonizing enough, it had to be worldwide news!
She's come back from that and has been getting her fair share of revenge lately –  discreetly and gracefully of course. She went through great lengths to make the media wait months to find out the designer of her wedding dress. Sneaky. She also teased media with vague due dates so the media ended up standing outside in record-breaking heat, waiting for the royal baby's arrival. Look who's Waity Katie now!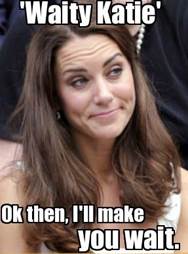 Image source katestruelife.tumblr.com
10.  Apparently William and Kate dressed as Scarlett O'Hara and Rhett Butler for their final May ball at St Andrews University. As a southern girl, and "Gone with the Wind" fan, how could I not love that?
Posted by Quinn