How Good is Your Spotting Game?
When I first got my pup, he was about four months old with big brown eyes, adorable long ears and an incredibly soft coat. His endless energy and unpredictable bladder led me to walk him around the Boston Common probably 12 times a day. I wish I was exaggerating. But it always surprised me when random people would pick him up in the middle of our walk to hug him or take a photo of him every. single. time! Total strangers! I probably met about 30 people a day, just as a result of this repeated interaction.
Honestly, this really annoyed me at first. It would make each walk twice as long, delay my arrival time if I was headed somewhere with him and completely distracted him from ever doing his, um, you know… "business." With time, I started to ease up and actually look forward to it. I didn't blame these people for being completely enamored by his cute face and friendly temperament, but I always wanted to be able to see if they ever shared the photo they took or used it as a Christmas card or something (yes, whole families have taken group photos with him).
So, you can only imagine my delight when I discovered Dogspotting—an online community where people from around the world share encounters with random dogs that don't belong to them to win points and likes.
As a dog lover myself, I too am guilty of stopping people in their tracks to hug their fluff monster, and now I can share this heartwarming experience with a whole community of loonies who have done the same to my pup! The fact that Dogspotting recently launched an app is going to make it way more tempting to do so. The regulations are pretty easy to follow. Things like "No Known Dogs" and "No Service Dogs" just mean if you know the dog or if the dog has an important job to do — like guide the blind — it's off-limits. The real fun comes when it's time to score a spot.
Aside from the usual suspects like +1 for "Dog," aka your "base score," you can get points for just about anything. For example:
Missing Component (+3): A dog with missing limbs, eyes, or other parts. An important distinction, though — this doesn't apply to a dog who's been neutered.
Wizard/Goblin Portal (+3): Spotting a dog through a hole in a fence or wall.
Unusual Transportation (+3): Spotting a dog riding in a sidecar, scooter, trolley, or air balloon.
And then there's Creative Bonus (+1) that anyone in the group can assign to you in the comments for basically any reason.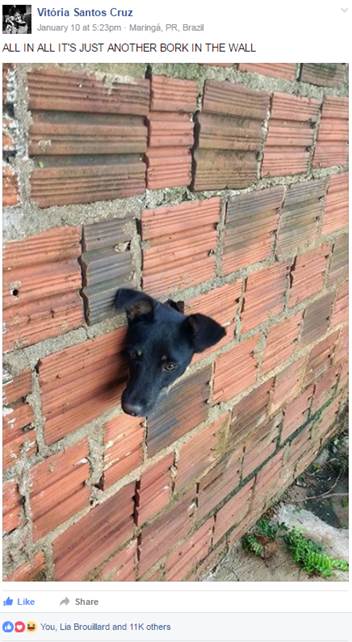 I really want this guy to make it to the "Top Spots" album, so like the photo and join the party!
You're welcome.
Posted by Zein