Good Things Come to Those Who Wait?
How often do you choose a restaurant based on how long you think the wait is going to be? For me, wait time is one of the only deciding factors. I don't care if a restaurant is five stars – the hottest new spot in town – if I can't get a reservation or get a table within 30 minutes I am going to trot over to the three-star place two doors down (my fellow colleagues on the restaurant team are rolling their eyes right now).
In yet another move to make our lives easier, Google has announced a new feature: average wait times for around 1 million restaurants. The waits times are calculated "based on anonymized historical data," according to a press release referenced by Huff Post. Whatever that means..
On Google mobile or desktop, all you have to do is type in the restaurant's name, and the average wait times will pop up under the existing "Popular Times" feature.
There is also a "live" feature, to show what wait times are that very moment: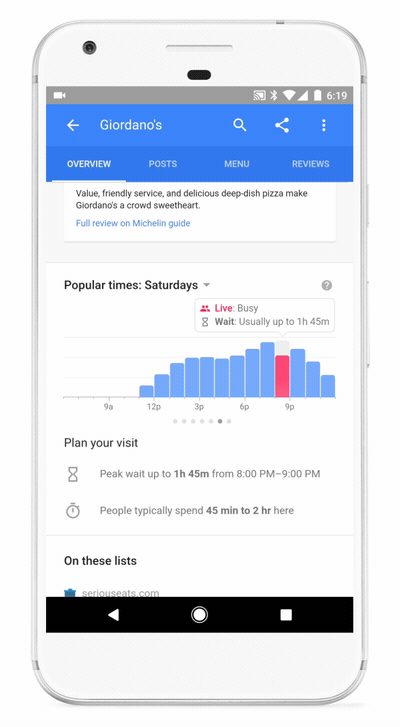 Image source Google via Huff Post
Google says by Thanksgiving it hopes to have wait times for grocery stores. (Pro tip: don't wait until the day before Turkey Day to get your bird!)
Posted by Erin D