GOOP's $60 Napkin
Gwyneth Paltrow always manages to out-GOOP herself with ridiculous, overpriced and elitist picks via her highly spoofable lifestyle blog (see the delightful homage, POOG). But her recent winter 2014 shopping picks take the macrobiotic, gluten-free, no eggs were harmed in the making, organic cake.
First off is a set of four monogrammable napkins priced at $236. That's $60 per napkin, Gwynnie! Pretty pricey for us muggles who likely aren't serving dinner to "Uncle" Steven Spielberg.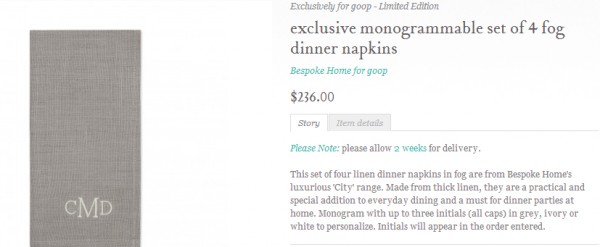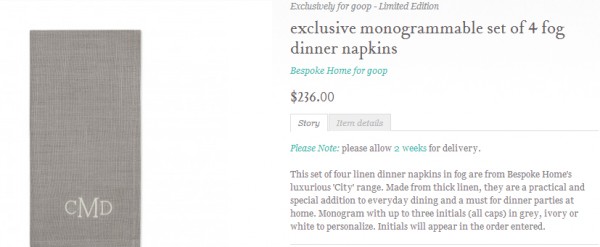 You're too late on this next one, folks. A $2,595 cashmere cape, designed exclusively for GOOP by buddy Michael Kors, is out of stock.  One must wonder if that's because no one wanted to buy this elevated blanket except for Diane Keaton's character in "Something's Gotta Give".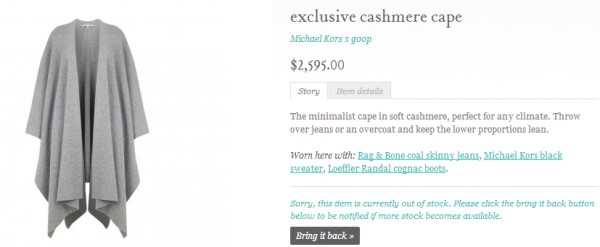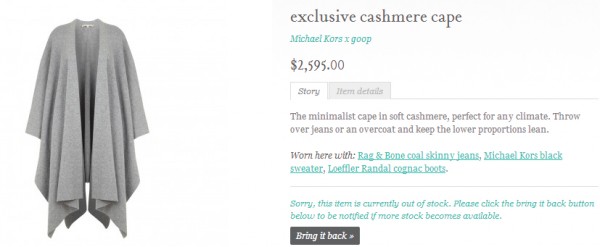 And why not get the kiddies into the GOOP-style, too, with a pair of $60 child leggings they'll outgrow within the year?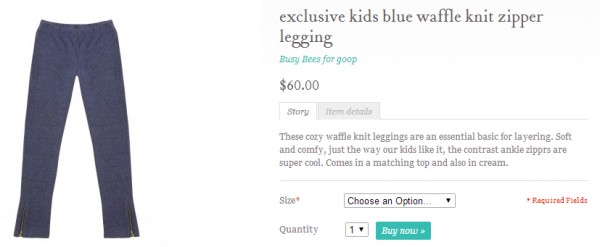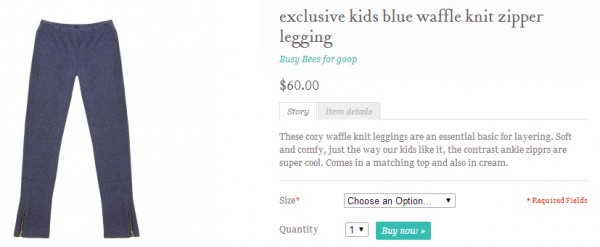 Images source ohnotheydidnt.com
While it's clearer than ever that Gwyneth resides in a magical wealthy person's orb, sheltered from the concerns of everyday plebeians like me, I still can't fully fault her for celebrating the items she loves in life. She's having fun expressing herself and not really hurting anyone – if anything, her oblivious antics bring the rest of us laughter to brighten our day. And she'll always have a special nook in my civilian heart for her Sharon Stone impersonation on SNL in the late 90's.
Posted by Michelle