Hakuna Matata…
Source: People
I've got to say, as far as movie remakes go, there has been a lot more bad than good (if you felt personally victimized by ABC's recent take on Dirty Dancing, please stand up). With so much anticipation to witness our favorite classics again, our hopes and expectations are typically crushed and we're left wishing no one ever even attempted to recreate the magic of the original. Whether one of the most beloved scenes is cut or the cast is just sub-par, movie remakes are always a hit or miss.
Except this time, I really think Disney has done it with the upcoming remake of The Lion King, set to open on July 19th, 2019. If you haven't heard already, the world has collectively lost it over the pretty exceptional cast list.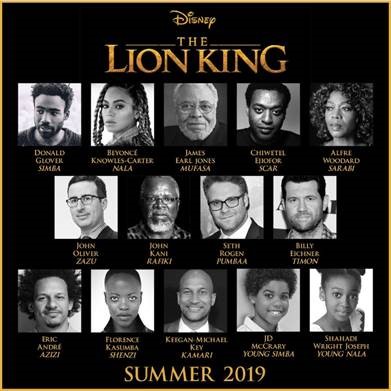 Source: Billboard
Queen B is one of the most anticipated members to join the cast as Nala and award-winning actor and rapper Donald Glover is signed on to portray the lead role of Simba. Legendary actor James Earl Jones will play Simba's father, Mufasa and acclaimed actor Chiwetel Ejiofor will be evil lion Scar. Other notable members include comedian and political commentator John Oliver as Zazu, Key & Peele's Keegan Michael Key as Kamari and Eric Andre as Azizi. Billy Eichner and Seth Rogen are also set to play the dynamic duo of Timon and Pumba.
People are excited.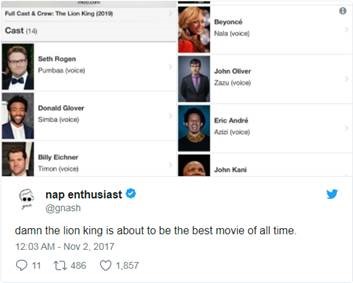 Source: HighSnobiety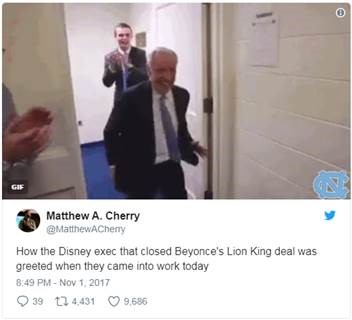 Source: HighSnobiety
I say we keep our hopes high for this one, even though we're used to the remakes falling flat (except for Freaky Friday, don't even challenge me on that!).
Posted by Katie