Hallmark, Shmallmark
When I was little, I used to want to go grow up to be the person who wrote phrases on greeting cards. The majority of my family is the type to just tack the name of the birthday girl, graduate, new mom, etc to the top of the card, and let the good people at Hallmark take it from there. This might read as a little lazy, but trust me, it's not. A lot of time goes into picking out those cards, and if you doubt me, it's obvious that you've never spent much time with my mother in a CVS. The job seemed fun – you could get paid for writing puns! – but also very important – you were the person who helped people locate the words others couldn't find on their own.
I moved away from this dream as I grew up and realized that the "inspiring" cards at the local CVS generally edged on cliché and my way with the written word was more suited for the high art of public relations. Also, I can't say for certain but I'm pretty sure the Hallmark offices are in like, Ohio or something…sorry, Ohio.
Anyhow, I was going along with my life, happily buying cards from Paper Source emblazoned with erudite puns when life threw me some curveballs. A friend's brother unexpectedly passed away. A friend's mother got cancer. My mom got cancer. Suddenly I was back logging some quality time among the sympathy cards in CVS (blame genetics), only to realize I couldn't buy what they were selling. It was all crap. I became embarrassed of my childhood aspiration. I never wanted to be the person to put flowers on the phrase "everything happens for a reason." Seriously, what is that even supposed to mean? Thankfully, we live in the internet age, and NPR recently brought Emily McDowell Studio into my life. A survivor of Hodgkin's lymphoma, Emily crafts beautiful, frank cards that ring honest and true. They're sort of thing she would have wanted to receive when she was going through treatment.
Consider this blog a thank you to Emily, for finding the right words and restoring my faith in the greeting card biz.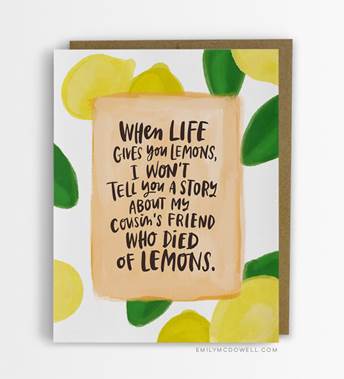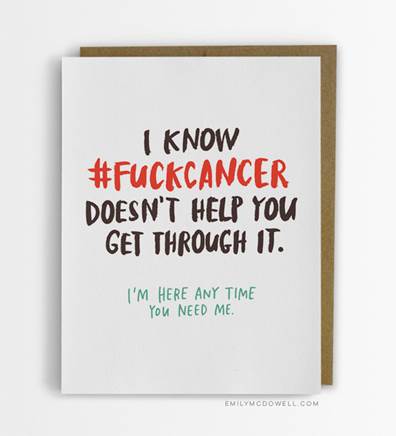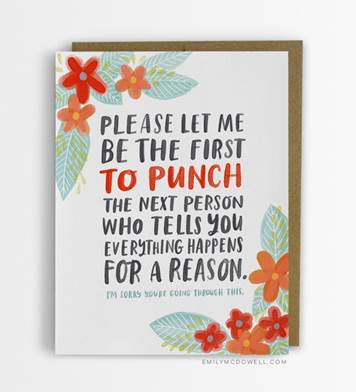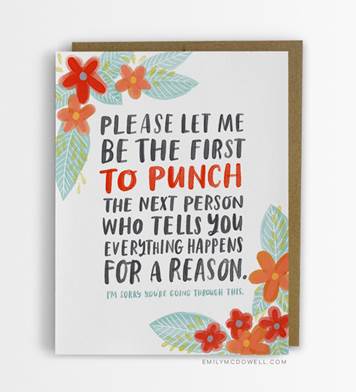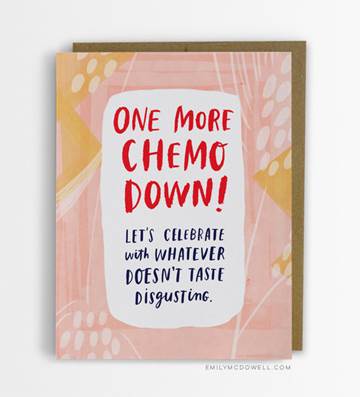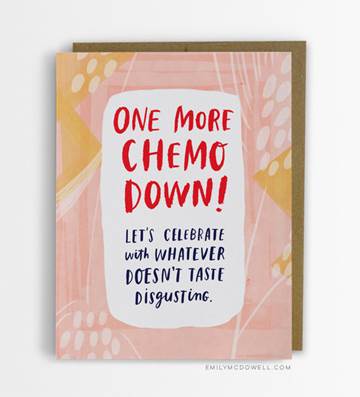 All Images  Emily McDowell Cards
Posted by Erin K