Haute Haute Haute at Harvard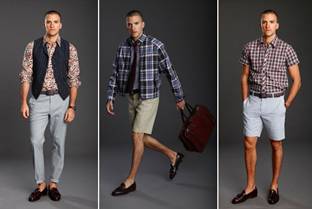 I first read about Harvard's new licensing deal to launch a contemporary menswear line through Boston Globe reporter Chris Muther's reporting on the new collection. The university has signed a ten-year deal with clothier Wearwolf Group and appointed John Fowler as creative director.
Inspired by Harvard in the 1960's, this collection is building on the resurgence of vintage fashion styles from as far back as the 1950's, i.e. Mad Men, Leatherheads and Revolutionary Road. Harvard Yard is comprised of "short-sleeve plaid shirts, Liberty print wovens, seersucker shorts, regimental stripes, sporty knits, patterned jackets and fancy pants — all in a contemporary, tapered fit," according to WWD.
The clothing line also recently made a cameo on NYC Prep, posing an interesting retort to critics of this collection that Harvard and Fashion just don't mesh. Perhaps they do, and, perhaps this is the right way to add some chic to the dusty ol' world of American academia. Personally, I find classic Brahmin style uber-elegant, but as my friend Doris says, "I'm an old soul." The creators of Harvard Yard have high hopes for the clothing line, arguing that this newly reinvigorated old-school look has serious potential to one day appeal to style mavens on a global scale in same way as leading fashion brands such as Gucci and Prada.
Harvard Yard isn't the only example of a reworked prep aesthetic. First, we have Ralph Lauren's Rugby which has been around for a few. But also, inspired by J.D. Salinger's Catcher in the Rye, designer Vincent Flumiani has just introduced his premier collection (Fall 2009) for Caulfield Prepatory. Again, crests, tweedy blazers, thick sweaters and nautical-inspiration abound in this menswear line. This month, the collection will be available in a selection of retailers, including Bloomingdale's and RevolveClothing.com.
I guess you could consider me — a 27-yr old Boston native with plenty of Harvard alum in the family and a certain sensibility for old-school style — a target demo of sorts for these new lines. Frankly, I'm not exactly clamoring for any of these new fashions, however I will say a big old HALLELUJAH to new and much-cooler options for those losers who feel the need to drape themselves in Vineyard Vines and Lily Pulitzer. I know, I know…"tell us how you really feel, Sam!"
Posted by Sam