#Hashtag #Stop #Doing #This
Image source Twitter
Does anyone even know the purpose of a hashtag anymore? Did you ever even know? History: The use of hashtags started on Twitter and were intended as a searching method so you can see what other users are saying about the same word or topic. Hashtags are even created for certain events, so you can track posts and photos from attendees. For example, #KateandBrianTieTheKnot, #MMCDayDrinking, or #BellyBonding.
Facebook recently announced their hashtag feature, and that's when it became clear that people have no idea about the real purpose of a hashtag. Sure, on Instagram if you hashtag #ootd #instafit #instagood #followback #likeforlike #latergram #hotgirl #twerk #ETC, you'll get a lot of "likes." (And trust me people, it's all about the "likes!") Unfortunately for Facebook, I don't think it works that way. Sure I've clicked a hashtag or two but not with intentions of liking other people's stuff. But what I have seen are 15 hashtags in a 20 word sentence. You're doing it wrong, folks. But I digress…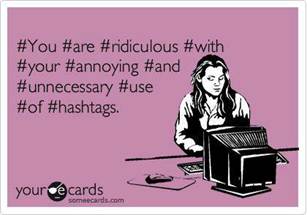 Image source Facebook

The moral of the story? If you've ever been on social media, you have seen  hashtag abuse. But have you ever taken the time to think how stupid the concept appears to be? A recent Jimmy Fallon skit featuring the beloved Justin Timberlake makes it crystal clear. So watch the video and #lol. And maybe, just maybe, you'll reconsider the next time your finger hovers above the # key!
[youtube=http://www.youtube.com/watch?v=57dzaMaouXA&w=420&h=315]
Posted by Nina