What the hell is "Dilly Dilly!" anyway?
Source: Thrillist
We've all been hearing "Dilly Dilly!" of late, but does anyone actually know what it means?! I first heard the phrase a few weeks back when I was criticizing my older brother for ordering a Bud Light at a local brewery in our hometown. I remember saying to him, "Jeeze, Cam, there are hundreds of high-quality craft brews on tap here and you choose a Bud Light, of all things. Nice." His response? "Dilly Dilly!" This made me so mad – partly because it made everyone else in the room laugh, but also partly because I had no idea what the hell it meant! I took it as a personal attack, before my dad later informed me that the phrase was from a Bud Light commercial.

Source: Bud Light
Weeks after, I still had not figured out what Dilly Dilly meant. Thanks to Thrillist, I can now say that I have been enlightened on the topic, probably just in time for a viewing that we'll probably see on Sunday. Turns out, according to Merriam Webster, dilly "comes from an obsolete adjective meaning 'delightful.'" To really get to the root of it though, Thrillist asked VP of Bud Light, Andy Goeler, what the infamous commercial was actually supposed to mean:
Goeler was right – Dilly Dilly enthusiasts have ran with this commercial. Just the other day, I saw Pats fans repping a shirt with a new hot take – Bill Belichick style. $29.99 for that shirt? Money well spent, if you ask me.
Dilly Dilly!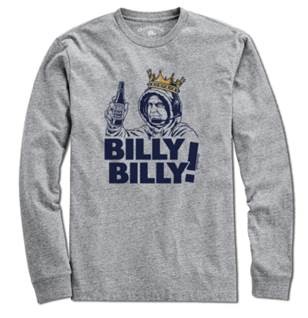 Source: Chowdaheadz
Posted by Olivia