Hello, From the Other (Warmer!) Side
Ooookay. So beach days are a long five-ish months away, at least here in Boston. In the Solomon Islands, however, sunny days reign supreme. I mean, just peep this weather report: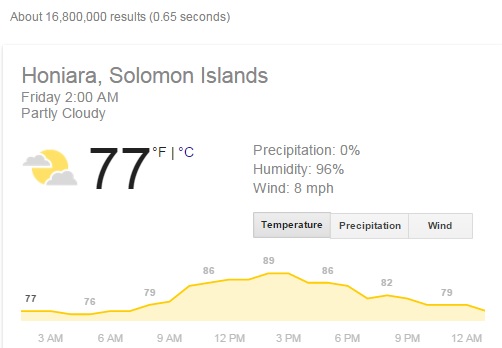 Image Source Google
Turns out, the balmy temps are even enough to warm up the lovelorn lyrics of Adele's, "Hello." Artist Nicolas Murray, better known by his stage name Conkarah, teamed up with his little sister Rosie to release a reggae version of the lovelorn British power ballad. A fair amount of autotune is used, but the juxtaposition of the soulful lyrics and steady guitar and drum beat is definitely worth a listen (or six).
Also – can we just take a second to appreciate what a cute brother/sister duo these two are? The video was released on Conkarah's Facebook page and has since gone viral, picking up more than 1 million views on Youtube in less than one month. At the moment, it's got over 9,500,000! What's next for Rosie? If one Conkarah Facebook fan's plea is heard, she'll be heading to The Ellen Show.
Ready for a whole new kind of winter chill? Check out the video for yourself below:
Posted by Erin M.