Hello, I'm Ron Burgundy, Again
Image source In Flex We Trust
As many of you know, come this Christmas, the legendary Rob Burgundy will be reuniting with the Channel 4 News Team to do what God put Ron Burgundy on this earth to do—have salon quality hair and read the news.
As a person who uses Anchorman quotes in everyday situations, I am over the moon excited to see what new material Ron, Brick, Champ and Brian have in store for us. I think Anchorman 2 will be every bit as successful as the first, if not more.
There have been so many endorsements and marketing pushes associated with Ron Burgundy as of late, heck, I'm not even mad — it's amazing! Ben and Jerry's named an ice cream flavor after his love of scotch. "Scotchy, Scotch, Scotch is a delicious ice cream and I hope Ben and Jerry consider my other suggestions," said Ron Burgundy. "Malt liquor marshmallow, well liquor bourbon peanut butter, and cheap white wine sherbet."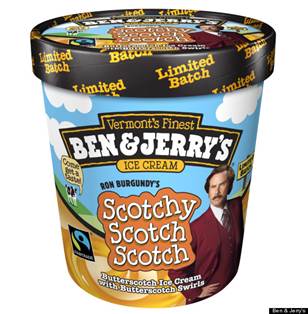 Image source Huffington Post
Ron Burgundy has also become the spokesman for the 2014 Dodge Durango. Since he has lent his dashing good looks, well-tailored suits and charming demeanor to the SUV, sales have climbed 59% in October and are up 50% of the year, according to Ad Age. The commercials are hilarious, here are my favorites:
http://www.youtube.com/watch?v=OE8CefgHyzY
http://www.youtube.com/watch?v=ZzfVT6j_1dY
http://www.youtube.com/watch?v=SC_Up3zrKjE
I can't wait to see what goodies Ron will come up with as we get closer to the movie release date. I seriously can't wait for this movie; thankfully Catching Fire is coming out at Thanksgiving to tide me over until Christmas.
For all of us at marlo marketing, I'm Quinn Kaemmer. You stay classy, San Diego.
Posted by Quinn