Hey, Lame-Ass, Want a Posterior Like Pippa?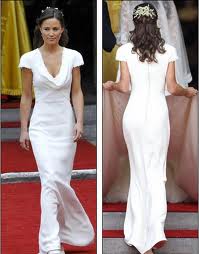 Well I think it is officially safe to say that Pippa Middleton and her ass are taking over the world. First it was the jaw-dropping white dress that she wore to the Royal Wedding. Next came the "Pippa Middleton Ass Appreciation Society" on Facebook (which, by the way, has over 220,000 "likes"), and finally, coming to a plastic surgeon near you, "The Pip Package Perfect Posterior."
Ringing in at a casual $12,000, the Perfect Posterior Package transforms your plain old rump into that perfect British buttock we have all come to know and love.
To be perfectly honest, I don't even want to begin to think about what an ass enhancement procedure is like/what exactly the surgeons do, because it makes me want to throw up a little bit. But, if this procedure were offered to me for free, I don't know if I would necessarily say no. In fact, I would most likely say yes and then proceed to ask if they had enhancements that could give me Pippa's face, hair, arms, and essentially anything that could make me her twin. Would it be creepy? Yeah. Would I look awesome? Definitely.
Posted by Brooke
Posted By: netgain