High Hopes for High Heels
Image Source: POPSUGAR
A few months ago, while attending a formal event I had to face an unfortunate fact: I'm terrible at wearing high heels. Even though the heels I had chosen were taller than the ones I usually wear, I was convinced I could handle them (I couldn't). That night, walking anywhere became a painfully slow trek and I spent most of my time sitting down to rest my aching feet while my friends enjoyed the dance floor.
Unsurprisingly, since that painful night I've been switching out the stilettos for flats.
But, I may be ready to give high heels another try. While scrolling through articles, I came across one in POPSUGAR exclaiming "Follow These 8 Hacks and Forever Change the Way You Walk in High Heels." Count me in! The article includes some good reminders like to buy quality shoes and wear them with socks around the house, and it also gave some more unexpected hacks I might attempt.
Hack #6 suggested really thinking about your posture and movements as you walk, always engaging your core (bonus ab workout!?). It also provided a much-needed note to lead with the ball of the foot and not the heel, which I've probably been told before but had completely forgotten.
On the more unexpected side, hack #8 says "taping your third and fourth toe together takes pressure off the bottom of the feet," and hack #4 suggests putting deodorant on your feet to remove friction. That last one seems a bit odd, but I guess people have done far stranger things in the name of fashion!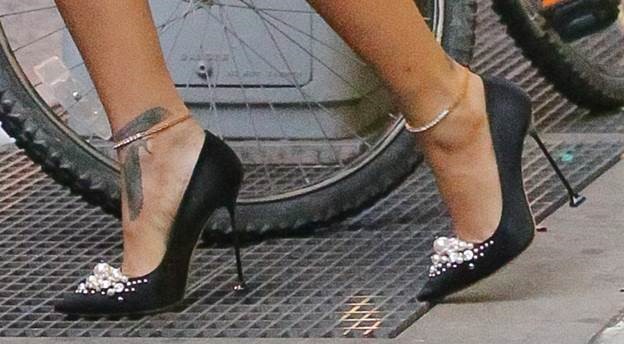 Image Source: Footwear News
I think I'll give these hacks a try. Who knows – maybe one day I'll have the skill to flawlessly walk over a subway grate in a pair of Miu Mius like Rihanna!
Posted by Cecelia