Ikea: Home-maker or Home-wrecker?
It's no secret that Ikea = hell on earth. I've never traveled to this hellish land with a significant other. Not because I'm as single as a Pringle, but because if I had a man I wouldn't be foolish enough to test our relationship at the Swedish slaughter house.
I know I'm not the only one who believes that Ikea is the leading store in breaking up happy couples. So in a desperate (yet very clever) attempt to get people to forgive them for wrecking happy homes, they created ikearetailtherapy.com. While I nod to their creativity, these clever names aren't enough to get me in their doors with my other half (Once I find an other half of course. He's out there somewhere…).
Here's a couple of my favs from the site:
She Doesn't Want to Cuddle
So you wouldn't let the Mrs. purchase another vase for the dining room? Don't worry, you won't be sleeping on the couch tonight thanks to the "She Doesn't Want to Cuddle Mattress Wedge!"
Image source ikearetailtherapy.com
$10.99 later and there's still hope for your relationship!
Find a Way Back to Each Other
The next one can be interpreted in many ways, but we've all gotten lost in Ikea and it's downright terrifying. No cell service. Screaming children. Screaming couples. It's literally a nightmare. Ikea is either saying that you're physically distant from your partner or it's saying your relationship is figuratively distant and you need to travel to love each other again. Either way it's saying you and bae are distant and if you don't do anything soon it's gonna swoop in and steal yo man.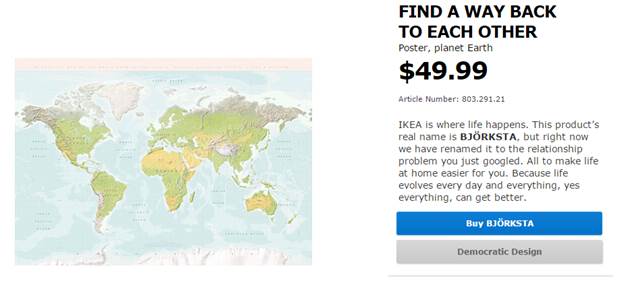 Image source ikearetailtherapy.com
I Need More Men in my Life
Didn't find your way back to your lover? Ikea encourages you to find happiness with more men, eight of them to be exact.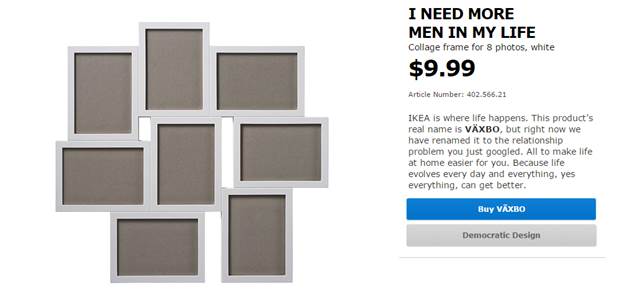 Image source ikearetailtherapy.com
How to Get Over Someone
When your trip was just that bad that Ikea succeeded in its home-wrecking ways, there's the "How to Get Over Someone" napkins for you to drown your salty tears in.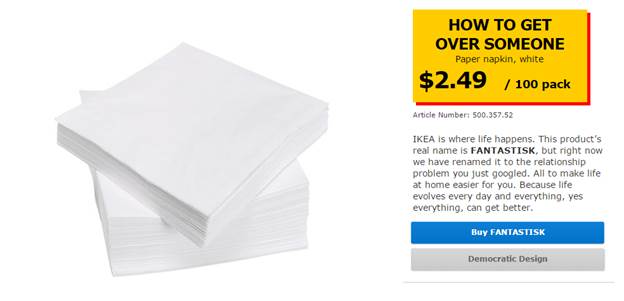 Image source ikearetailtherapy.com
How to Get My Ex Back
And if you're really feeling desperate, after bringing out the worst in each other, Ikea reminds us that, "life evolves every day and everything, yes everything, can get better."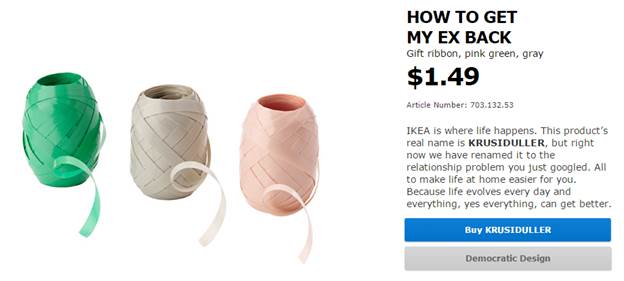 Image source ikearetailtherapy.com
Puh-lease. Ikea might be a cheap date, but if you want a relationship that lasts, don't invite them to meet your significant other…unless you're looking for new napkins.
Posted by Christina B.