Hot Dudes With Dogs. Need I Say More?
Listen up, because this is much more important than whatever it is you're doing right now. I have recently discovered that an Instagram account named "Hot Dudes with Dogs" exists. As you might be able to figure out from the title, it's literally an account that exclusively consists of particularly good looking men, sometimes without a shirt, posing with dogs. IT'S GENIUS.
"Hot Dudes with Dogs" covers all the bases when it comes to variety. Sure, they're all models, but they range anywhere from blondes to brunettes, and represent a wide array of ethnicities. There are men as clean cut as Chad Michael Murray in "A Cinderella Story" #TBT, and there are men totally tatted up. Some are sweet, some are serious (and naturally, because they're models, some are a bit too serious).
But more importantly, let's talk about the dogs, because nothing brightens your mood like a happy dog. There are puppies and full grown dogs. There are lap dogs and terriers; there are labs and huskies. There are sweethearts and there are goofballs. Some could be twins with their owners; some are unlikely pairings. Some are cuddly, some are sassy. Whatever you want in a man or his best friend, it's in this account. Really, just look at some of these guys. You're welcome.
Pool or beach, they will make your day.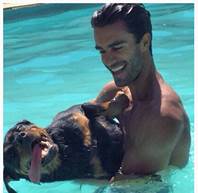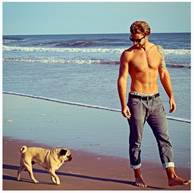 Really, you can't get enough of this puppy love.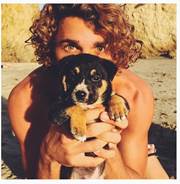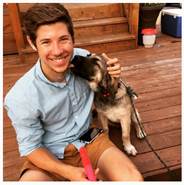 Really, you can't get enough of this puppy love.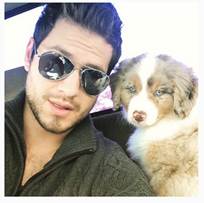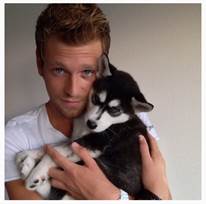 I could literally stare at these pics ALL F!$%ING DAY. And yes, I actually did follow one of these models JUST because of this account. I have no regrets. It's this one: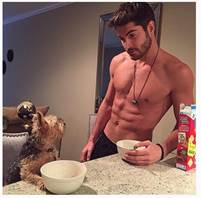 So much cereal, so much sass
I'm not sure whether we should be thanking these men for donating their precious talents to the eyes and Instagram accounts of single women everywhere, or whether they should be thanking the account for helping them get some exposure. I guess when hot men pose with dogs, everyone wins. Feelin the puppy love? Find more here: Hot Dudes with Dogs.
Namaste.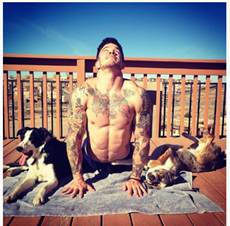 All Image source Instagram
Posted by Val