Houseplant Husbandry (For The Hesitant Horticulturist)
So, you killed it…again. Whether it was your significant other's favorite fern or the beloved family Ficus, you vow never to take on the responsibility of potted plant parenting ever again. If you're one of the millions out there like me that did not receive the green thumb gene and cannot keep a houseplant alive to save your life, fear not! I have created a list of what I believe to be the easiest plants to sustain in even the darkest and dankest of indoor situations. The secret is to give yourself (and the poor defenseless herb) a chance, by picking a potted plant that suits your habits and personality:
For the hipsters, the yogis and the minimalists: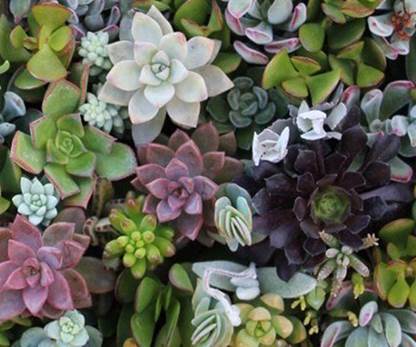 Image source The Succulent Source
Ahhh, Succulents. You may have also seen these little beauties snuggled into the place settings of hipsterific weddings and bridal bouquets or even perhaps zenfully displayed in your local overpriced yoga studio. The mantra for this species – which ranges from Aloe, to Cacti, to Jade – runs along the lines of "just chill the #$%& out." Perfect for an office cubical or urban windowsill, these slow growing multi-colored plants prefer very little of anything in order to flourish. In fact, the only thing that kills them is overwatering and too much attention (if overwatered they at first appear more lush and radiant and then proceed to die colorful, dramatic and smelly deaths… trust me on this one, beware the swollen succulent).
For the conservative prepsters, and the never-been-used-dining-room owners: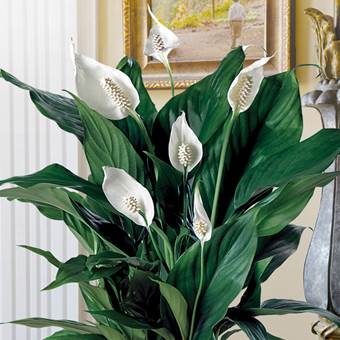 Image source Jackson & Perkins
Peace lily plants are what I consider to be the desperate housewives of houseplants – known in the potted plant world as "heavy drinkers" these decorative delights never seem to look a day older than the day you brought them across the threshold and into your home. One caveat – the leaves are dangerously toxic when eaten so best kept for the office and away from curious children or pets. Tip: If it is not flowering; banishing the ornery creature to a dark room is the best way to shame/threaten it into putting out buds!
For the old fashioned and somewhat eccentric: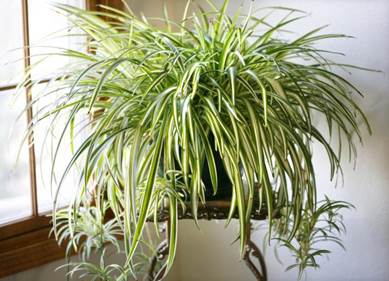 Image source ScrapMatters
You may have spied a Spider plant when visiting your weird great aunt at the last family Christmas party. These plants enjoy moderate sunlight and have been known to continue living in abandoned homes of the elderly for months on end where they creepily continue to multiply. Perfect for those with a try, try again attitude, the ends of the arching stems are the plants veritable spawn and can be easily clipped and replanted for new plants. Thus, if the main plant begins to die, simply replant one of its spawn – ahh, the circle of life.
For the elegant sophisticates and insufferable aristocrats: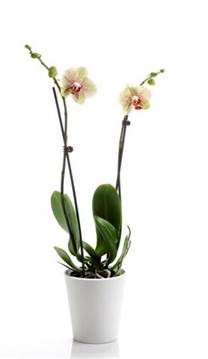 Image source ExoticBotanic
One of my personal favorites, the "let them eat cake" houseplant can make any desk, whether it be a cube or corner office, appear more posh and polished.  Orchids are a fairly indestructible species as they are used to surviving in the crevices of rainforests trees high above the forest floor. They won't flower unless you give them sunlight, but won't die if you don't. What's the drawback to tending these pretty petals? Like most trendy city dwellers, they need to be fed a fancy overpriced meal every week or so in order to retain their joie de vivre.
And last but not least, for my "I can't even get my own life together and you expect me to take care of other living things!?" compatriots: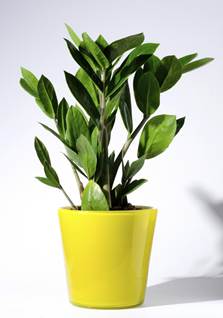 Image source Home Remodeling and Renovations
I give you…the ZZ Plant (or Zamioculcas Zamiifolia to be specific). The cockroach of flora, this is an indoor plant reserved for the truly lost causes of the gardening world. Lurking in dark office hallways and shadowy apartment crevices, it is in reality the world's most indestructible plant. As a ZZ plant owner, my only recommendation is dusting the little miracle of science every now and again to keep it from looking plastic. You can literally cut off a branch and it will remain green for multiple weeks. Did I mention that the leaves are also extremely toxic if ingested? It will out survive us all…
Posted by Jenna