"I Am the Nucleus"
Yeezus, Kanye West's final contribution of 2013 B.N. (Before North), may be old news at this point, but the album's so-uncreative-it's-creative promotional poster has sparked a new project. With the help of GQ, Kanye's minimalist piece was sent to 5 innovative contributors: ESPO, a New York city artist born out of the graffiti scene; Curtis Kulig, an artist, photographer and illustrator known for his "Love Me" campaign; Wil Fry, a designer; Mister Cartoon, a graffiti and tattoo artist; and James Franco. Yes, Freaks & Geeks/Pineapple Express/"invisible art" museum James Franco. After following Yeezy's instructions to "Please add graffiti," they've left us with a series of images ranging from the convenient to the truly bizarre. Here are a few that stood out:
ESPO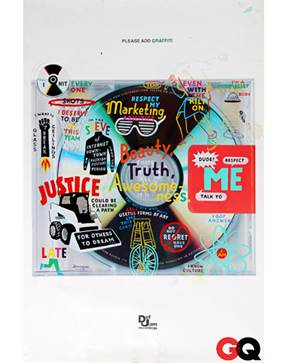 The West influence is clear with this one. Referencing many of Ye's best-known moments, from his black leather kilt to his famously outrageous New York Times interview, ESPO made his poster a shrine to the gospel of the Louis Vuitton Don – a sentiment I'm sure Kanye appreciates.
Wil Fry
Explaining that "no one who feels like writing graffiti needs or wants your permission to do so," the designer took a different route by burning 16 copies of the album and attaching them with Velcro. I'm sure the penny pincher in all of us would appreciate the free music, and the famously flashy rapper might have one or two bucks to spare.
James Franco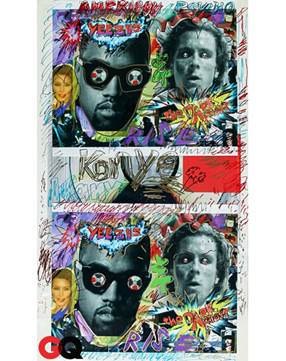 This one was created by America's favorite overachieving lunatic, and unsurprisingly looks completely insane. Taking inspiration from Kanye's American Psycho inspired commercial, Franco let his… "artistic" side run wild. As bizarre as the piece may be, James' creation of what looks like the cover of my 19-year-old brother's chemistry notebook only further endears him to me. Love you, booboo.
While these have me inspired to create something of my own, I know I can't compete with local celeb Lulu's contribution…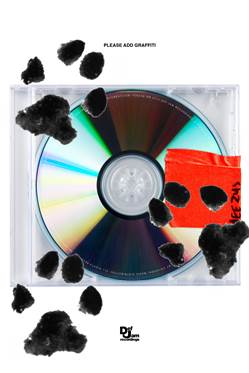 Posted by Maddie
Image source GQ