I Do, With a Caveat
Image source First We Feast
It's the moment every woman thinks about, dreams about and has possibly acted out once, or twice, as a young child (or young adult). There's a man, bent on one knee in front of you. Your breath catches in your chest and your eyes begin to tear. You know what's happening. He grasps your hand, looks into your eyes and lovingly says, "Will you…make me 300 incredible sandwiches?" Hold up, whaa?
If you haven't been following the blog 300 Sandwiches you may be slightly confused and, quite honestly, that wouldn't be a bad thing. Turns out, this sandwich courtship is actually the true life and love story of Eric Schulte and Stephanie Smith. Apparently, Stephanie makes a damn fine turkey sandwich. So good that, after making one for her boyfriend, he informed her (ever so romantically) that she was "300 sandwiches away from an engagement ring." Um, excuse me?  Enter the part where Stephanie Smith and I differ, ever so slightly, in our reactions. My reaction would probably have been an immediate laugh, followed by a swift smack to the face when I found out my man was serious.
Alas, Stephanie decided to take him up on the challenge, creating a blog to document her sandwich-making trip towards a lifetime of happiness. She described her strategy in her blog, explaining "things were moving at a natural pace, but I wondered what it would take for him to propose…Maybe I needed to show him I could cook to prove that I am wife material." Again, excuse me? Honey, this is where you need to cut and run. Put down the bread, put down the knife and find yourself a new man. A man that cooks. They exist – and they're awesome.
But, this story has a happy ending. It was after sandwich number 256, the ever so elegant looking "Kite Surf Fuel" sandwich that her man finally caved and popped the big question – the 'Will you marry me?' question, not the 'Can I have another sandwich?' question. Well, she said yes, and the two are now ever so happily engaged.
Now, the burning question – will their wedding have a sandwich theme? Perhaps, "True love is something worth relishing?" Just a thought. Anyway, moral of the story is – make bad, bad turkey sandwiches ladies because you never know what thoughts they may inspire in a man. Or what awkward engagement photos they may lead to: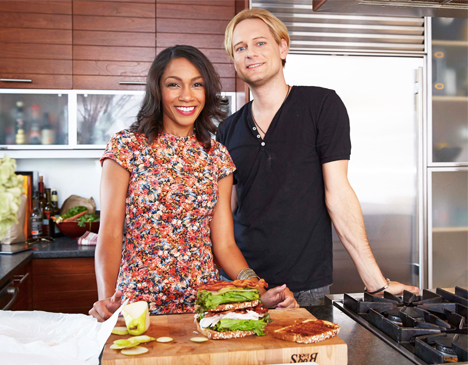 Image source First We Feast
Posted by Amy