I Eat Burgers And I Know Things
Image Source: Nerdist
We've all heard of Starbucks' secret menu (which kind of makes it not so secret). There are Unicorn Frappuccinos, Caramel Swirl Pumpkin Spice Lattes, and Ombre Chai Iced Teas. Shake Shack, too, has created its own secret menu, but this one has a theme in honor of television's biggest event of 2019. And its not the Grammy's, Oscars, Academy Awards, Met Gala, or even the Victoria's Secret Fashion Show.
It's the final season of Game of Thrones, which premiered this past Sunday.
But only true #Throners can order from Shake Shack's secret menu. (Sorry, but if you think you can just sit in on season 8 and expect to understand what's happening without having your heart ripped out by the Red Wedding, then this burger is not for you). Customers who want the Dracarys Burger or the Dragonglass shake must be bilingual — that is, you have to order in Valyrian. If you can speak Danaery's native tongue, you'll get a spicy double cheeseburger with bacon, monterey jack cheese, and Shake Shack sauce and frozen custard mixed with mint, white chocolate, and toffee.
Other brands are getting in on the GOT action, too. Adidas has released Ultraboosts with the most swag in Westros, Oreo put GOT designs on their cookies (okay, these might top the Halloween ones), and Mountain Dew made limited edition cans that reveal Arya Stark's kill list when they're cold. *goosebumps*
Basically, major brands are hosting their own battle for the Iron Throne of American consumerism.
So sit back, relax, and enjoy your GOT swag, because…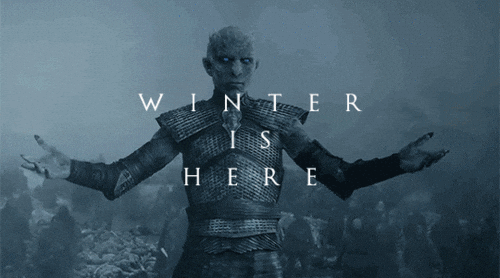 Image Source: Giphy 
Posted by Molly