If Lil Jon Can Do It, So Can You #TURNOUTFORWHAT
Hey kids — if you haven't been living under a rock, you may know that we've got some voting coming up this November. Although I'm not well-versed in politics and the like, I AM well versed in Lil Jon banter… which is exactly the kind of response from a millennial "they" were looking for.
As many of you know, the "Rock the Vote" campaign has been well and alive since Madonna's Rock The Vote Commercial in '89, parodying her hit, "Vogue." Since then, we have moved on from red bikinis hidden behind American flags and are on to bigger and better things… like Lil Jon at the President's podium parodying his latest club rocker, "Turn Down For What," or in this case, "Turn Out For What."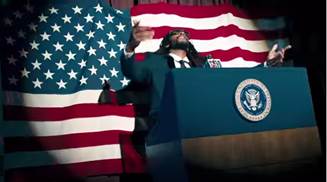 Images source Youtube
The video features some awesome cameos including Whoopi Goldberg (or Aunt Whoopi as Lil Jon calls her), Lena Dunham (why YES, Lil Jon asks her about the impending season of GIRLS), Natasha Lyonne (American Pie & OITNB bada$$ extraordinaire), E.J. Johnson (why are "Rich Kids of Beverly Hills" relevant?), and more. Each cameo shares a line on why they are "turning out" to vote and include some patriotic confetti and interpretive dancing courtesy of "Lil Lena," you guessed it — in a onesie.
What will you turn out for this year? Prison Reform? Reproductive Rights? Education? As they say — every vote counts. Find out where you can rock the vote here and #TURNOUTFORWHAT.
Posted by Emily