If Only For A Second
One French cancer patient's comment has inspired an incredible video campaign for The Mimi Foundation. When discussing her current condition, a cancer patient named Katy said: "You know what I miss the most? Being carefree…for now, that is not possible." Those words really resonated, and thus came the "Ne Serait-Ce Qu'une Seconde" (If Only For A Second) project.
The Mimi Foundation's mission is to improve the quality of life of cancer patients, who often suffer from depression during their treatment. The organization set out to give a small group of patients the feeling of being carefree, just for a few moments, by giving them outrageous makeovers and hairdos. Twenty participants were asked to keep their eyes closed while their makeup was being done. They were seated in front of mirrors and when they opened their eyes a photographer captured their moments of surprise.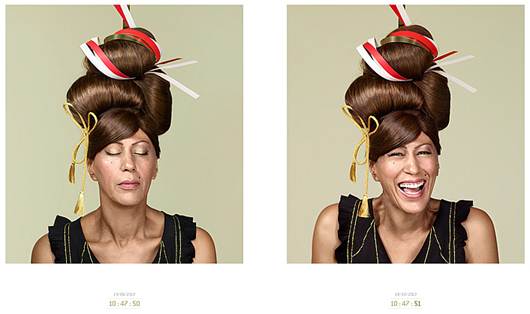 Image source Mimi-Foundation.org
The initial expressions of shock are hilarious, but it's the fleeting moments of happiness that are truly amazing to see. The photos have been put into a book, and are captioned with the date and time they were taken so that we can all actually see "the exact second when the person forgot about their disease." The ear-to-ear smiles are incredibly powerful and heartwarming. Check out the video below:
Posted by Nina
Posted By: marketingmarlo