#imlovingit
With so many burger chains in the world, it is hard for me to imagine how McDonalds is still going as strong as it is, even despite their recent troubles. I mean, come on… Five Guys, UBurger, In and Out, SHAKE SHACK! Every one of those serves significantly better burgers than the Golden Arches. (I will say though, that those golden, crispy fries that Micky D's serves… the best, am I right?)
Fast food, to me, serves only two purposes – to feed hungry road-trippers in a flash and to quench the uncontrollable desire to eat at 3 AM. That's it! Well, not everyone agrees with me, as McDonalds continues to expand rapidly overseas. When I was studying abroad in France, many local students viewed that eating at McDonalds and drinking Starbucks were Trophies of Cool.
With this mentality of cool in mind, McDonalds just released a whole new concept: a lifestyle collection of merchandise. On March 24 in Stockholm, Sweden, the fast food chain announced the collection at a "McWalk" fashion show. The line – which includes everything from clothing to wallpaper to bed sheets – is covered with the iconic image of their signature sandwich.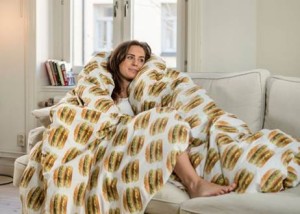 Look at her! She looks so comfy wrapped in a burger blanket!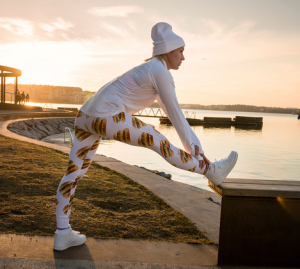 McDonald's is really concerned with your health – make sure you run!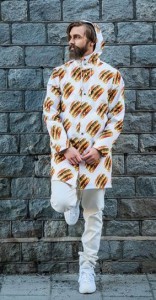 Rain? What rain? Protected in a coat of burgers.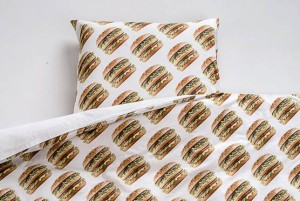 Dreams of Hamburgler while tucked between these sheets.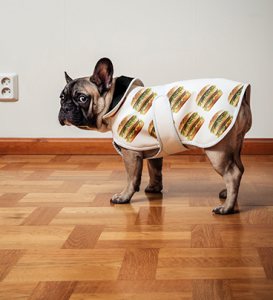 Don't worry – your furry friend can get enjoy the fun as well!
Marlo, I bet Lulu would love it!!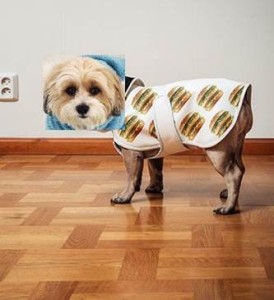 If any of these strikes your fancy, you can order it online at bigmacshop.se.
All images sourced by AdWeek
Posted by Kat