It Does NOT Say "RSVP" on the Statue of Liberty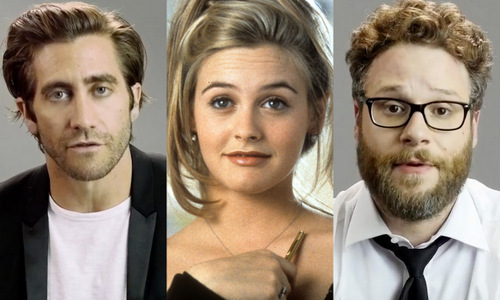 Image Source Hello Magazine
Ever wondered what Seth Rogen would sound like giving Cher Horowitz's famous "R.S.V.P." history class speech from Clueless? No? Well, whether you've ever imagined it or not, it happened, thanks to W magazine's new "Casting Call" video series, in which "today's biggest stars perform their best on-the-fly auditions for a handful of classic films."
The most recent edition features a handful of A-list male actors – including Seth Rogen, Jake Gyllenhaal, and Bradley Cooper – reenacting Alicia Silverstone's brilliant performance that 90's gals like me certainly remember and appreciate. I mean, how would we ever know what high school was going to be like without Cher, Dionne, and the crew?! And it certainly didn't hurt for one of my biggest schoolgirl crushes to be on Paul Rudd's character Josh (it only helps solidify my love for Mr. Rudd).
Check out the video, along with the rest of Season One so far, here. (Fellow Kristen Wiig fans will especially love her in the first two videos.)
It actually wouldn't hurt for some of our current political candidates to take some of Cher's advice (I'm looking at you, Trump).
Posted by Erin D.