It's Just a Bunch of Hocus Pocus
Image Source: Giphy
Twenty-five years ago, the black flame candle was lit, and it's been mesmerizing kids (and some adults – no shame) ever since. The rumors are true, the cult favorite 'Hocus Pocus' is celebrating its 25th Anniversary and the lineup sounds magical. I'm not freaking out, you're freaking out!
On October 20th, the world can tune into a one-night "Hocus Pocus 25th Anniversary Halloween Bash" filled with live musical performances and interviews from the beloved cast.
While only two Sanderson sisters are confirmed (get it together Bette Midler), there will be no shortage of throwbacks, with appearances from 1993 heartthrob Max Dennison and his sister, AKA America's sweetheart, Dani Dennison. I know you're dying to see their transformations just as much as I am…
The TV special will join Freeform's 31 Nights of Halloween series amongst other OG favs – so if you ever need me after 6pm during the month of October, you know where to find me (my couch).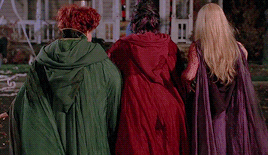 Image Source: Giphy
Posted by Carolyn