Just Do It
Image Source Munchies
What inspires you? It's a deep question, I know. Take your time. Want to know what inspires the money-makers over at Nike? Chicken and waffles.
Yea, you read that right and no, this is not an April Fool's joke. We can now wear our food without looking like complete slobs (debatable) thanks to the Nike SB Dunk High Premium 'Waffle.'
How anyone got from soul food to apparel for soles, well, they had to have smoked a lot of ganj, but nonetheless it resulted in a $110 product that's selling like hot cakes (well…waffles).
My first reaction was wondering who approved this design to go forward, but then I realized that when new ideas are presented at Nike the response is probably "Just do it."
It turns out that Nike isn't the only one with chicken and waffle sneaks, Vans also makes soul-food inspired kicks. Which makes me wonder, could chicken and waffle shoes become the next pizza trend? Yea, I know, the deep thoughts just keep on comin'.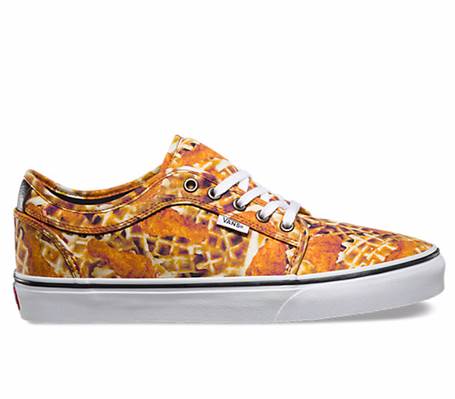 Image source Vans
Guess it's true when they say breakfast is the most important meal of the day.
Posted by Christina B.