Just How American Are You Really?
Despite an affinity for international travel I'm proud to be an American and consider myself a knowledgeable American at that (unlike these poor people who commented on the State of the Union address before it had even happened). So when a Buzzfeed quiz popped up on my newsfeed asking "Could You Pass The American Citizenship Test?" I thought "oh yea, I got this!" But as I started clicking through I realized all that elementary/middle/high school history education might not have stuck as well as I assumed.  Some questions were easy enough like…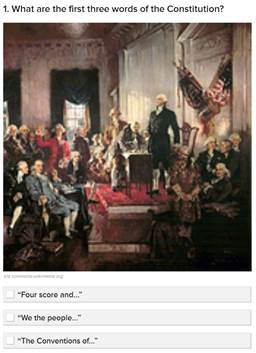 Image source Buzzfeed.com

Image source Buzzfeed.com
Image source Buzzfeed.com
But when it got down to the nitty-gritty I found myself stumped when asked to name the current Supreme Court Justice or who would take over if both the President and VP were unable to run the country (hint: it's not the Secretary of State).  In the end I scored what I consider to be a respectable 19 out of 28, especially considering some of the questions are geography based, which is just unfair for those of us who are directionally/spatially challenged.  I'm still proud to be an American and even happier that I don't have to pass this test to gain citizenship (because that would be touch and go). Would you pass?
Posted by Gillian