Just Peachy
Image source pix.iemoji.com
True life: my Instagram is a weird-ass place. Why, you ask? Well, to put it simply, I'm a #foodie by trade and by choice, but I also have an interest in health, wellness and working out. And while I am prone to seeing this as healthy balance, I think it would be confusing AF for our friends in Mother Russia if they ever deign to hack my iPhone. Open up my Instagram, and voila: it's a plethora of pizza, a bunch of bagels, and a few glow-y, skinny chicks drinking collagen and mushroom moon powder approximately every fifth post. Normal? I think nyet.
There is a certain seasonality to both genres. The epicureans bring on the root veggies when the temps drop, and my #fitfam breaks beautiful, breathable-yet-warm running gear at the same time. But while the food peeps tend to only talk stone fruit in the summer, for the workout weirdos, it's all peaches all the time. Why? Because #squats are always in season and they've got buns of steel.
WTF is she talking about, you ask? Well, put simply, until recently the peach emoji was reminiscent of a certain part of the human anatomy, making it super popular to post before/after doing a lower body workout. Exhibit A below:
Alas, it seems that the glory days of the lifted and toned butt peach are over. As of last week, the evil-doers at Unicode (the same jerks responsible for withholding mermaid and lobster emoji from us deserving citizens) have updated the peach emoji to make it look more like fruit. See Exhibit B: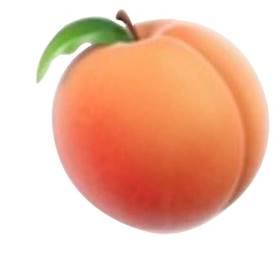 Image source wennermedia.com
This is all well and good for the food 'grammers, but what of the fitness freaks and their followers? How am I supposed to understand that a workout kicked their ass without a modern-day hieroglyphic alluding to their glutes???
Worse still, this went down around the same time ClassPass revoked their unlimited option!
These are dark days, my friends. Dark days indeed. Now please excuse me while I drown my sorrows in 18 photos of Black Tap milkshakes.
Posted by Erin M.