Justin Bieber Is Insulting Our Intelligence.
Image Source Fox News
As publicists, I think it's natural to become a little cynical when it comes to the media and pop culture. What used to be innocent TV watching after work is now me polluting my roommate's thoughts with comments about "you do know that brand paid for that mention, right?" or, "do you actually think he came up with that?"
Yet, at the end of the day, I can still appreciate a good comeback story, even when it's as blatantly PR-driven as that of Justin Bieber. As we all know, the Biebs has been a total shit head (and PR nightmare) for the past few years and has just recently started to "clean up" his image.
Appearing on a well-loved talk show to confess his sins? Check. Uploading a humble video apologizing to fans? Check. The only thing left to do would be a very publicized public skewering on Comedy Central. Yup, check.
I finally watched the much talked about Roast of Justin Bieber this week and have mixed reviews. To be truly honest, I laughed while watching the roast and I'm talking about full belly laughs. The Biebs gets told, "Time flies when you're a piece of shit" and "You're the King Joffrey of pop" so no one forgets how truly annoying he is.
Just as you're getting comfortable watching the pure comedic brutality, you start to realize how coordinated this all is. The roasters end their bits by telling Justin how brave it is for him to do this and how he's a great person. Then, you get Martha MF Stewart up there reading some of the night's most foul-mouthed and crude (yet positively awesome) jokes and you're starting to feel like everyone is insulting your intelligence by attempting to play this off as genuine and not elaborately orchestrated. "Sure, let's get the one person that America can forgive no matter what and put her in Justin's corner!"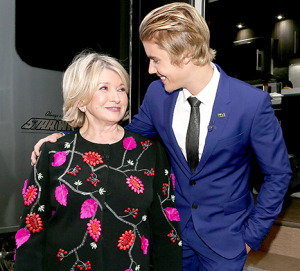 Image Source US Weekly
As if that wasn't enough already, Justin Bieber then gets up to give another humble apology to his fans by reading from the teleprompter that he's ashamed of the mistakes of his past and that he was "thrown into this at 12 years old, and didn't really know what I was getting myself into."
I quickly snap out of my downward spiral of cycnicism when I notice my roommates are genuinely sympathizing with the Biebs, talking about how nice it is that he is turning his act around. They literally have no idea they're being duped. I guess that's what we call good PR.
Posted by Tracy