Kids Say the Darndest Things
Kids: so adorable, yet so annoying at the same time. What's that phrase? "Kids say the darndest things" (five dollars to whoever can tell me the origin of the word "darndest"). Anyway, I'm not a parent (yet), but I have been around plenty of little ones, and the absolute BEST thing is when they start to talk, but nothing that they say makes any sense. And then, when they get a bit older, they talk a lot (sometimes too much) and just make up their own reasoning for everything. It's like they know how cute they are and use their special little powers to make you believe whatever they have to say.
One of the most frequent complaints? "I can't eat this." Why can't you, little Joey? Did your teeth suddenly disappear and leave you unable to chew?
One brilliant mom created an Instagram account compiling all of the excuses her three kids give to NOT eat something. The account has over 147K followers…#thestruggleisreal
Here's a taste (get it, hah!):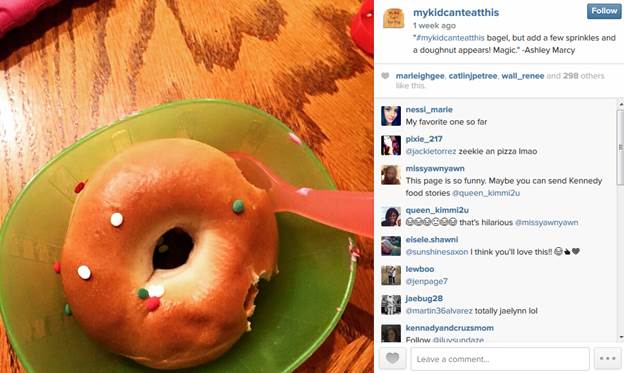 Image sources: Instagram/MyKidCan'tEatThis
I wish I could personally tell this kid how much he/she will grow to love bagels when he/she grows up.
For more hilarity, go give this a follow: https://instagram.com/mykidcanteatthis/. And if you have kids, the account accepts submissions!
Posted by Erin K.