Kiss Your Free Time Goodbye, 80's & 90's Kids
Image source openlettersmonthly.com
If you went to elementary school sometime in the 90's, chances are your favorite part of the day was when you got to go to the COMPUTER lab. What a cool invention the computer was. We weren't allowed Internet access back then, but there was so much other exciting stuff – like Minesweeper and Word documents, and Paint! Paint was the BEST (still is, actually). I used to create the most beautiful mosaics, like the following Erin DeVito original: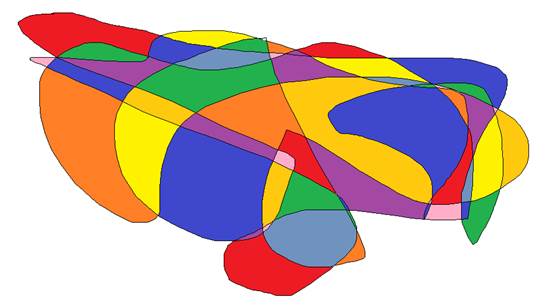 It's a shame I didn't go to art school.
Anyway, I digress. One of the other highlights of computer lab was the OREGON TRAIL. What was intended to be a "learning experience" about the hardships of 19th century pioneer life was actually probably just a way to keep us kids busy and quiet for an hour. Regardless, it was always a race to see who could lead the covered wagon to the end without dying of dysentery or losing too many oxen.
Now, The Oregon Trail has returned to the computer, thanks to the Internet Archive. This, and more than 2,000 other classic MS-DOS games, including an early edition of Sim City that I am DYING to play, are available for free online here.
You're welcome, and apologies for destroying your productivity for 2015.
Posted by Erin D