Kombucha + Dogs = Pure Joy
Image source KombuchaDog.com
If you don't know, we're a little obsessed with kombucha here at marlo (we even have it on tap) and have an immense love for all things dogs (aka Lulu). Now there's a company that combines both these addictions, Kombucha Dog.
Kombucha Dog features adorable pictures of shelter pups that are available for adoption on their bottles of authentic kombucha. The company was started by Michael Faye (with his loyal rescue companion Charlie of course) after working as a commercial photographer for 25 years. He was raised in a holistic family and when he couldn't find kombucha on shelves he decided to start brewing his own. After an epiphany, he combined his two passions and decided to feature these canines on the bottle to help them find a new loving home. Get a new dog and drink some great kombucha, that's the greatest win-win I've ever heard of. If you are already compelled to adopt a dog, or if you aren't convinced yet that this is for you, take one look at the cute dogs up for adoption now.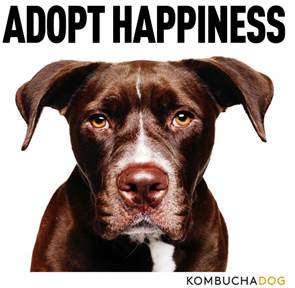 Image source KombuchaDog Instagram
While this brand is currently only available in CA, I may or may not have sent them a note that they need to get to MA ASAP; and in the meantime, I've already asked my Cali co-workers to smuggle back a bottle or two after the holidays.
Posted by Emma.