Let The Tinder Games Begin!
Image source Instagram
I would be lying if I said that I have never attempted to match with a celebrity on a dating app before. But, I remember always thinking to myself, "What the hell is this hot and famous person doing here? There MUST be millions of beautiful people in their social circles just waiting around the corner, creeping somewhere in their huge mansions, or simply blowing up their phones. So why do they feel the need to use an app for assistance?"
Don't get me wrong, I'm not complaining. No, the main emotion I'm feeling right now is pure jealousy; I'm jealous of every single person in Rio de Janeiro who just died and went to Tinder heaven. Tinder's matches have gone up 129 percent since the Olympic Games began, and swipes have gone up 69 percent! Get your head out of the gutter, that's a real statistic. Looks like the athletes are out there to get gold medals, and then some…
At first, I was almost certain that this was some type of photoshopped joke. Athletes are very serious people who eat, train and sleep for a living, right? Well, apparently not; they're looking for love just like the rest of us normal folk.  Some of them, I'm specifically referring to dream-boy Ryan Lochte, have even discussed their experience with dating apps quite openly.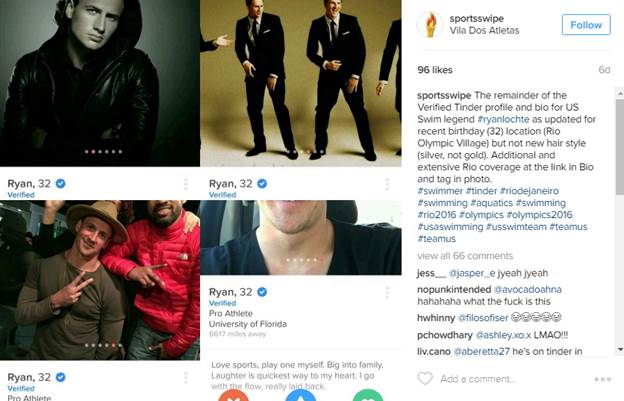 Image source Instagram
As for the rest of them, well, let's just say if there was a gold medal for fastest swipe to the right, I'd be prancing around the marlo offices with a pretty shiny necklace!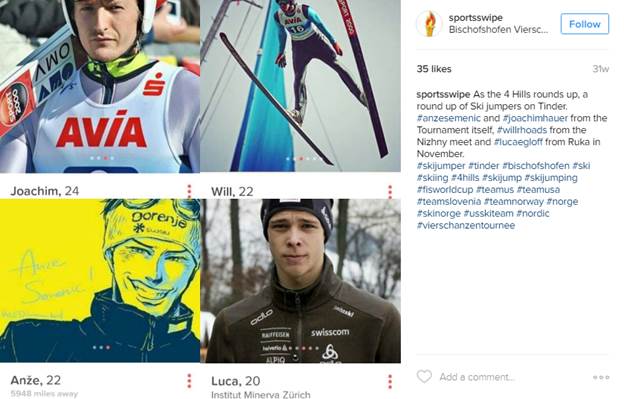 Image source Instagram
Posted by Zein.