Life in color (™)
Image source coolmaterial.com
As is typical for those of us in the design world, I love Pantone colors. It all started many years ago at university when a tutor first introduced me to the Pantone color books. Somehow all the colors in the world had been collected and categorized (neatness being something else I rather love!) and bound together in a handy swatch book – what joy! No longer did I need to search my brain for suitable descriptive word for my pinky purpley kinda reddish shade, I could just quote P215 and 'voila' there it was for all to see.
From then on Pantone has been a constant part of my professional and personal life…and luckily for me they make it real easy for it to be so. Mugs, notebooks, cookie tins, aprons, cappuccino cups, oven mitts…the list goes on for the ways you can buy a piece of the Pantone life. You can even stay at the Pantone Hotel in Brussels.


Image source Pantonehotel.com
Now even the colors of nature have been 'Pantoned', check out this blog, where beautiful photos and even video have been categorized into their basic colors. I rather think the color blocks are just as pretty as the images themselves.
So how in this cornucopia of color does anyone ever know what is the 'trendiest'? Well, Pantone has taken care of that too, collating the 'Color of the Year' since 2000.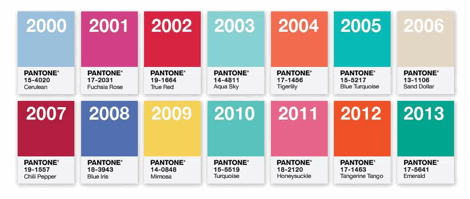 Image source pantone.com
And as for 2014, apparently Pantone 18-3224 (Radiant Orchid to its friends) has already got it in the bag!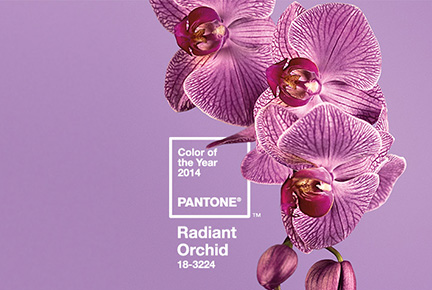 Image source Pantone.com
So next time you are debating which sweater to wear, forget yellow or orange, think Pantone 115 or Pantone 1495!
Posted by Hilary