London Is Burning: Usain Bolt Gets Silver for Pre-Race Vogue Routine
Image source SB Nation
The men's 100-meter dash last week was a jaw-dropping feat of athletic prowess and Usain Bolt is undeniably the man. His stride is elegant and extraordinarily powerful and, as someone who sometimes declines to walk down the street for lunch when it's too hot, the blood, sweat and tears that go into running that distance in under 10 seconds blows me away. To say it's impressive doesn't do it justice.
I loved watching those guys kill it on the track in their neon shoes, but by far my favorite moment of the XXX Olympiad (and there have been many, including the general silliness of men's trampoline and the creepy gold-winning synchronized swimming duet routine from the Russian aqua ballerinas) was before the race, when we got to see swagged-out intros from the entire lineup of the fastest men on earth. Did somebody tell these guys they needed to come up with a badass mug for the camera on the fly? Because they did and it was beyond brilliant.
My analysis of this Paris is Burning-style pre-race routine: This was all-around a pretty impressive display, with mugs ranging from a cool and collected, but unfortunately very squinty, stare-down from a brightly goateed Asafa Powell to some milquetoast hype face and run-of-the-mill good sportsmanship from Justin Gatlin and Ryan Bailey of Team USA. Meh.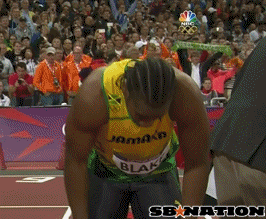 Who wins my prestigious award for most ridiculous pre-race hype? The same dudes who killed it on the track: the Jamaicans! But, sorry Mr. Bolt. Though your ridiculous, awesome record-spinning, gun-toting, running finger routine was memorable, your teammate Yohan Blake wins gold! As you can see from the embedded video, Yohan spends a very long few seconds below the camera frame before rising up like a Thriller-esque zombie, appearing to bark and finally flashing an absolutely lovely smile! Bravo, Yohan, bravo. That was really random. Thank you for my making my Olympics special. And thank god for GIFs, amIright?
Posted by Susannah