Looking for Love…on the Subway?
Image source Global News 
To most people, the New York City subway is their nemesis. Especially in the summer, when the heat turns this already crowded and gloomy place into Satan's armpit. But there's one New Yorker who is willing to change that and make everyone's commute more fun. And more romantic.
Meet Thomas Knox, a 28-year-old Brooklyn man and the mind behind Date While You Wait, an improvised speed dating table that pops-up in the middle of busy NYC subway stations. With a table, two chairs, and a Coca-Cola bottle with a single red daisy, he engages perfect strangers in conversation and a board game.
Contrary to what you might believe, the goal of his project is not to just hit on women. He only wants to bring some joy and a little spark to the everyday lives of commuters.  "I wanted to do something positive, so I was like, you know what? I'm just going to set up a table, and you know, sit down and have a conversation with people," Knox told CBS New York.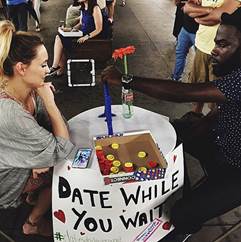 Image source A Plus 
People all over New York and the world are enjoying #DateWhileYouWait and the love and joy it brings to NYC commuters. He even got a shout out from Nicki Minaj!!  Wanna see for yourself?  The location for the project remains a secret until Knox updates the world (and the single ladies of New York) which subway stop he'll be set up at via social media at the last minute.
Mr. Knox has been invited to do similar events in Philadelphia, Atlanta, and the UK. Hey, it's a lot less creepy than that Boston dude who thought it'd be cool to fellate while you wait!
Posted by Megan