Love is All You Need
Image Source: Rice Krispies Treats
We all need a little love in this world, and Kellogg's Rice Krispies Treats is making no exception.
On top of offering sweet and sticky marshmallow goodness, the beloved snack brand is now offering inclusion and accessibility with the launch of their "Love Notes." Last year, Rice Krispies Treats designed wrappers with a blank white space on the back for parents to write encouraging notes to their children. Now, the brand has partnered with the National Federation of the Blind to release packaging that caters solely to visually impaired children. With stickers of pre-written messages like "you got this" and "you're a star" in braille and an innovative audio box for parents to record a message (that also perfectly holds a Rice Krispies Treats square), blind children can experience the wonder and surprise of opening their lunchbox and seeing a note from mom or dad.

Video Source: Rice Krispies Treats via YouTube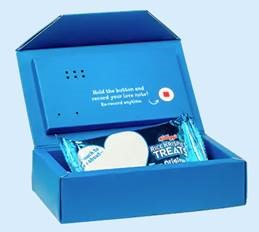 Image Source: Rice Krispies Treats
According to Kellogg's, "With over 62,000 blind and low-vision children in schools across the United States, we realized not every child is able to see these written notes… This year, love and support will be more accessible."
That's really all we need in this world. No matter how big or small, any step towards inclusivity is an important one.
Rice Krispies Treats – we applaud you!
Posted by Katie