Magic Mirrors
As loyal m.blog readers will recall, I have started to rely heavily on fashion delivery service StitchFix to update my wardrobe. I do this to save time and avoid florescent lighting. Brick and mortar shopping runs are generally reserved for when I have a wedding or event on the horizon and realize that it's probably not gonna be good for me if I rock my college "going out tops" to my friend's bachelorette in Miami. (Gotta be classy, see?)
When I do shop, I'm always thrown by how different dressing room mirrors make me look. There have been times when, after a lunchtime stop at Macy's, I've had to pit stop at the office bathrooms just to make sure my face doesn't look as weird as it does in the mirror of that big box retailer. As it turns out, I am not alone in my confusion, and Buzzfeed writer Kristin Chirico has #blessed us with documented proof that dressing room lighting has the power to make you look all sorts of whack. Or fly. It's basically Anthropologie's choice.
Behold: Here is What the Same Person Looks Like in Dressing Rooms for 20 Different Stores*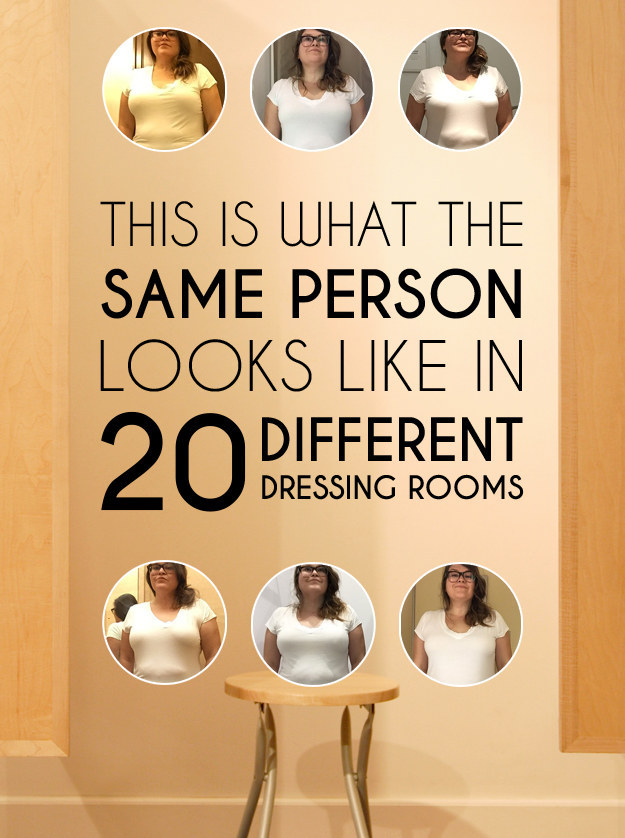 *There was no self-tanner or liposuction involved in the making of this post. SHOCKING, I know.
Posted by Erin K