Make Your Host(ess) Feel Like He(She)'s The Mostest
This New Year's Eve, there's a good chance that some of you will spend your evening with friends at some sweaty nightclub or, as an alternative, many will take the low-key route and attend a party at someone's home. The night will consist of lots of appetizer spreads and socializing with pals until the place is a mess and you head back to your pad to leave the owners cleaning for the next 24 hrs.  I commend party hosts—it's a tough job! For that reason (and 'cause Miss Manners will frown on you if you don't), it's always a good idea to bring a small gift for the host as a message of appreciation saying "thank you for letting me and my date eat your food, drink your booze and wreck your floors with our heels."
The best hostess gift ideas are those items that you, personally, are a fan of but may talk yourself out of buying during one of your normal shopping days, no matter how much you liked the items.  Taking that fact into consideration, here are three NYE gift ideas for the party host. If you've never brought a gift for the party host, now's the time!
Vintage American Cocktail Mixers from Powell & Mahoney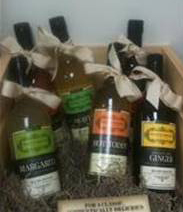 These all-natural, micro-batch produced cocktail mixers make it easy to create a specialty drink at home.  Made by local Massachusetts' brand, Powell & Mahoney, these super affordable mixers retail for around $6/bottle and come in flavors like Mojito, Bloody Mary, Cosmopolitan, Ginger, and a seasonal offering, Hot Toddy.  Your host can mix them with a hard liquor of his/her choice and "Voila!"—a delicious cocktail drink made on the fly!   Find 'em at select gourmet specialty stores, liquor stores, and lifestyle emporia, nationwide.
Dinnerware from Anthropologie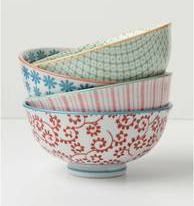 Ever browse the home section of an Anthropologie store? I want to fill my kitchen cupboards with all their porcelain cups, bowls and colored dishcloths but each item is so damn expensive!  For the female hostess, box up a set of four ice cream (or cereal) bowls and throw in some gourmet ice cream or homemade granola…what a cute gift!
Soaps from Fresh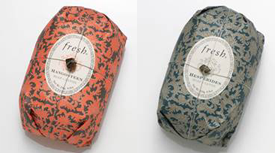 Fresh sells individually-wrapped soaps and one of my go-to hostess gifts is to run into their retail store on Newbury Street, pick out two or three soaps at $14 each (love the HESPERIDES scent!), and then ask the staff to box them up for you. They do such a great job with the presentation of your gift (silver boxes tied up with a pretty bow), that you look like a gift-giving rock star.
Posted by Brianne